It seems like recently I have caught the drawing bug, probably largely helped by a sudden avalanche of sales for my Penguin Valentines Cards! It really has been rather exciting over here at Penguin HQ!
I've found that I really do love drawing cute little animals and it seems like i'm getting better and better every time i open up photoshop! I've even started recording my drawing process as i think it does help to watch back when i'm not concentrating on drawing, plus i think it could be quite a nice little addition to my youtube cannel that's been lying dormant for so long! You can watch all my time-lapses here!
I drew these seahorses as another option for valentines day, but ended up not really liking them enough to put up in my shop. I do think they're cute but, gosh, are seahorses hard to draw! Maybe i'll revisit them once i've improved a bit more.
I started to relax into my drawing a bit more and drew this adorable Hippo! This has to be one of my favourite drawings to date! He's wearing a cute little party hat and singing 'Hippo Birthday', because Hippo's are obviously amazing singers! 😉 I think my shading improved so much on this picture and I just love the hippos character!
You can buy my Hippo Birthday card here!
Ashley then gave me the idea of drawing a shiny-object-loving magpie stealing a ring for a wedding or engagement card and I thought it was a great idea! I wanted to add a little simple background to this one and love how it turned out although i think i will tweak my shading tomorrow as it isn't as good as on my Hippo.
You can find my Magpie Thief card here!
What do you think I should draw next?
I also have some other exciting plans for my youtube so do keep an eye out for more learning, projects and other fun things!
But for now, it's time to sew!
Claire
---
Ever wanted to have adorable penguins on your finger tips? Well want no more as I help you paint your own adorable penguins on your nails!
My first penguin tutorial to celebrate this months 'May There Be Penguins' celebrations shows you how to turn your nails into your own adorable penguin colony.
Paint your nails with me right here : https://www.youtube.com/watch?v=fkFDQW_QxdU
Keep your eye out for more tutorials (with better video quality) later on in the month as I keep on celebrating the wonderful world of penguins!
Also, join me on facebook for even more penguin fun, games and even competitions!
And don't forget to enter my latest competition which closes at midnight tonight (gmt). Find it here on my facebook page
---
I have a new endeavour to go hand in hand with my wildlife photography in progress and so set out to Alexandra Palace to see the fallow deer that will be featuring in it. Unfortunately they had all disappeared! I assume they are inside and away from this bitter, cold weather, but it was quite a disappointment. I do have some ideas for what I can do with some other creatures, though, whilst I wait for their return.
So as not to waste our trip, I got Ash to take a few photographs of me in my newest creation! A sparkly, flowery, cosy infinity scarf! It really was very warm and cosy.
The outer fabric is the same as with my cape, and beautiful black, shimmering fabric I just adore. Hopefully I can buy more of it soon as I've more or less run out!
The inner fabric is a gorgeous, silk-like fabric which feels lovely against the skin and features a pretty flower design.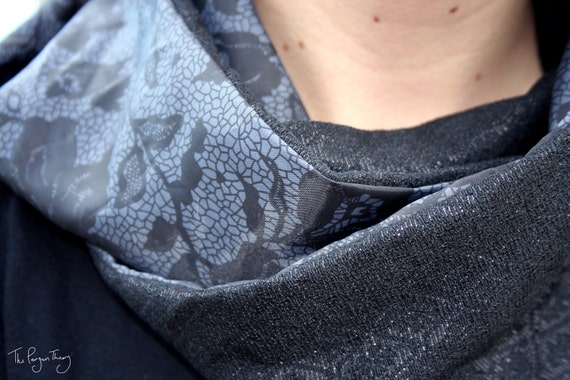 The scarf can be worn in the depths of winter with a thick coat to keep you nice and toasty warm, but it is also a good match with a simple t-shirt in slightly warmer weather.
I wore it with a plain black top, and big black waisted belt finished with this gorgeous blue skirt. I felt that the flower patterns in the skirt and scarf complimented each other well, plus I am just in love with this skirt (a bargain £3 from Primark!)
As it was a rather cold day I also wore tights with knee length socks to keep my legs warm, and these adorable fluffy boots!
Finally I finished the outfit off with some earrings I made for myself ages ago (more like I loved them so much I couldn't bare to part with them). The blue matched perfectly and the chain drops gave a sense of elegance to the outfit.
My make-up was simple. Just a light pink on my eyes with some winged liner and a hint of pink on the cheeks and lips.
Hopefully the Fallow deer will return soon, but for now you can find this scarf listed in my shop right here
Have fun!
Claire x
---