I have a new endeavour to go hand in hand with my wildlife photography in progress and so set out to Alexandra Palace to see the fallow deer that will be featuring in it. Unfortunately they had all disappeared! I assume they are inside and away from this bitter, cold weather, but it was quite a disappointment. I do have some ideas for what I can do with some other creatures, though, whilst I wait for their return.
So as not to waste our trip, I got Ash to take a few photographs of me in my newest creation! A sparkly, flowery, cosy infinity scarf! It really was very warm and cosy.
The outer fabric is the same as with my cape, and beautiful black, shimmering fabric I just adore. Hopefully I can buy more of it soon as I've more or less run out!
The inner fabric is a gorgeous, silk-like fabric which feels lovely against the skin and features a pretty flower design.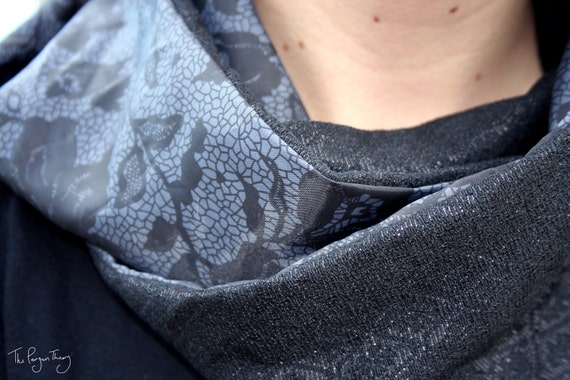 The scarf can be worn in the depths of winter with a thick coat to keep you nice and toasty warm, but it is also a good match with a simple t-shirt in slightly warmer weather.
I wore it with a plain black top, and big black waisted belt finished with this gorgeous blue skirt. I felt that the flower patterns in the skirt and scarf complimented each other well, plus I am just in love with this skirt (a bargain £3 from Primark!)
As it was a rather cold day I also wore tights with knee length socks to keep my legs warm, and these adorable fluffy boots!
Finally I finished the outfit off with some earrings I made for myself ages ago (more like I loved them so much I couldn't bare to part with them). The blue matched perfectly and the chain drops gave a sense of elegance to the outfit.
My make-up was simple. Just a light pink on my eyes with some winged liner and a hint of pink on the cheeks and lips.
Hopefully the Fallow deer will return soon, but for now you can find this scarf listed in my shop right here
Have fun!
Claire x
---
Fashion is always a big thing at festivals, I'm never quite sure why as it usually gets very cold, wet and muddy (at least in the uk) and, with lack of showers, it is hard to keep yourself looking presentable. But if you really must make sure you look your best at all times, here a few tips for you to really get into the festival spirit fashionably.
DO wear flowers in your hair. Festivals are notoriously 'hippie' themed and everyone loves a flower headband.
DON'T forget a big hat. Keep the sun out of your eyes whilst still looking stylish (or maybe a bit silly).
DO wear sensible shoes. Sandals, Vans, Toms or Converse at the dryer festivals, an awesome pair of wellies at the wetter ones. Also bring a pair of flip flops for those quick, late night toilet runs.
DON'T wear a floor length skirt. Even if the ground is dry, the portaloos get disgusting. Do you really want it dragging through god knows what on those floors? The answer is no.
DO bring some uber cool, hippie shorts. Not only are these really really comfy, but they look pretty awesome too. Perfect for relaxing at a festival.
DON'T be afraid to go ridiculous on your outfit choice. There's always someone in fancy dress bringing a smile to everyones face, if you don't mind the attention than why shouldn't it be you?
DO wear lace. It's always extremely popular, and that's because it's just plain pretty! Plus it's a good way to keep cool at the hotter festivals.
DONT wear high shoes. Your feet will be in agony by the end of the day, and if it rains then you have no chance.  Even if you think they'd be fine, even the slightest heel will feel like torture by the end of the day.
DO plait your hair. You wont have anywhere to really shower and dry shampoo is only so good, plaits are a great way to keep your hair looking nice and tidy whilst still pretty.
DON'T wear ridiculously short shorts. This picture was probably the most unpleasant i've seen, but no matter how skinny you are I really do not want to see your bum, or your frilly knickers. I don't even understand how this is a fashion at the moment.
DO wear the merch you buy. I mean, why not? You probably spent a lot on that t-shirt or bagtanned, you may as well show your support.
DON'T wear body paint unless you don't mind the suntan lines. I personally wouldn't want pale dots up my legs for the next few weeks.
DO make sure you're comfortable and happy in what ever you wear!
More festival Do's and Don'ts coming up soon!
---