Picasso is getting all excited for Christmas and already has his stocking out! Although he's having a lot more fun inside it rather than hanging it up 😉
Have you got your stocking out yet?
If you haven't even got a stocking yet you can get your very own Penguin stocking just like Picasso's in my Etsy Shop! (Click the image to follow the link!)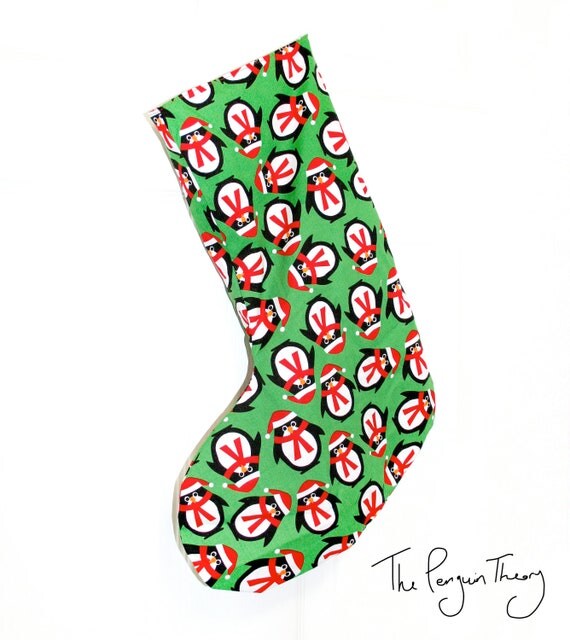 ---
I've finally listed my first christmas Item on Etsy! This lovely festive stocking
It is fully lined and the outer fabric is made of a green, and a red and gold cotton. The perfect edition to your fireplace!
I even included my own hand-stitched logo on the back!
My mum has already asked if I can do this in blue and gold (the colours she decorates the house in at christmas) for her. If anyone else would like one of these in different colours, or even a different design, please don't hesitate to ask!
Hopefully I will be creating some more festive Items soon! Maybe another stocking or two 🙂
For now though I'm going to start an exciting project which will create some fabulous gifts for small children!
I will definitely be listing more and more items soon though as I create more stock for the festive season, I've also been applying for lots of christmas craft fairs! Fingers crossed at least one of them wants me! 🙂
'Till next time!
---
I've been busy at my day job and sewing as usual, today in particular has been jam packed (especially for a day off)!
I have a christmas stocking i'm busy sewing but keep getting distracted…I've been sewing for days and it definitely should have been finished by now.
We also did the food shop, although it was less for food and more for house hold cleaning products with a few veg thrown in.
I then cut my boyfriends hair!
I was a little worried about how it would turn out…but it seems to be pretty good! I don't have a before shot unfortunately (it was really quite long!) but here's the after! :
Maybe I have a new career direction? hehe.
Hopefully will be updating with some exciting new products tomorrow, but I have an extremely long shift so i could very well just collapse and refuse to do anything once i'm home.
'Till next time!
---