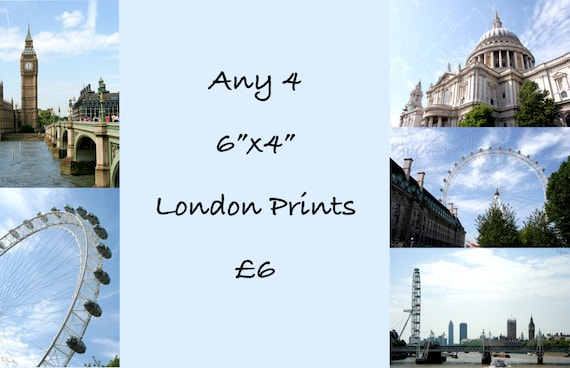 Now available in my shop is your choice of 4 of my London 6×4 prints for only £6!
Choose from any of my london prints (priced at £3.95 separately) to create your own collection. There are lots to choose from and even more to come!
Express your love for this iconic city with your very own set to decorate your shelves. These 6×4 prints would look great in frames for any London Lover.
All are printed by a professional photo lab on archival paper. Watermarks will be removed and replaced with a small logo on or around the print.
Other sizes of all photographs as well as mounting, laminating and canvas prints are available. Please contact me for more details.
I really do love london (although living here is maybe a little too expensive). I think my favourite place to go is the natural history museum. It's just such a beautiful building and holds so many weird and wonderful things! I also love the south bank as there's always so much going on! And you can't forget the many parks dotted around for nice relaxing summer days!
What's your favourite thing to see and do in London?
---
Yesterday my boyfriend and I went to the British museum as a date as we haven't really spent much time on ourselves lately and museums are free (and make awesome dates!). It was lots of fun and I even gained inspiration for a necklace or two!
We saw lots of statues, the rosetta stone (which my silly boyfriend thought was a woman and not an actual stone…), some mummies and a giant doorway! (amongst many other cool things). Unfortunately none of them came to life, but I guess we didn't stay late enough for that.
After we'd had enough of wondering around the many rooms there (it was getting close to closing time)  we decided to mooch over to the south bank, one of the places we went on the first day we met each other (and also one of our favourite areas). We sat down and enjoyed the view and watching people milling around. Then we wondered over the the performers area to see what was on show. Some how we ended up in the Magners garden, a must see if you're in the area. There's loads of outdoor seating and bars as well as shows and, at the moment, a mini theme park! We didn't go on any of the rides (lack of money being one reason) but had fun wandering around looking at everything going on, and sitting on some swing chairs in the sun.
All in all it was a really lovely day spending time together.
Today hasn't been nearly as good…I had work and it seemed like everything that could go wrong went wrong.
First I managed to sleep through not one, not two, but THREE alarms! Then I messed up so many orders it wasn't funny and my boss had to keep changing them for me. I thought it couldn't get any worse but then I crouched down to put a tray of glasses on the floor and heard a loud 'RRIIIIPPPP'
My trousers had split.
I quickly ran to the glass wash and refused to go out and serve customers. My boss was really nice and lent me a jumper so I could finish my shift and make it home without too much embarrassment. Such a life saver!
I was going to buy a new pair of trousers from somewhere like asda until my boyfriend reminded me of my sewing machine…
I guess I should get round to fixing them then.
In other news, I set myself goals to reach for the 13th. One being reach 50 likes on my facebook page, sadly i'm just 1 like away! Another, though, was to reach 15 followers on wordpress, a goal i'm glad to say i've achieved. So thank you everyone who has followed me so far! I will do my best to keep my posts interesting and regular. 🙂
I will have to create some new goals for next week and also get sewing again! I've had too much time off…
Till next time!
---
Yesterday it was mine and Ashley's year anniversary together. We decided to celebrate by going into london together and having a nice day out.
We started in McDonalds at Waterloo station as this was where we first met and had some nice healthy food(!) Obviously it was a very classy start to the day.
Then we thought we'd take a stroll on the south bank to see the performers, another thing we did on the first day we met. We found mr bean, some crazy bendy jamaicans and a man drumming on lots of buckets. I always enjoy seeing what's going on there, the atmosphere always feels so alive.
We then wandered over to Camden Market, one of the first places we had a date. We wandered around the markets for a bit and I bought a lovely pocket watch where you can see all the inner workings. I've always wanted one but could never find one i liked until now! Ash bought a batman jumper and pulp fiction tshirt.
We then went to have a coffee in starbucks by the river before moving onto my little surprise for him. He's a massive nerd so I thought I'd take him to Forbidden Planet, a big comic book and nerdy memorabilia shop. He was pretty excited! I ended up buying him 'The One Ring' from the Lord of the Rings Trilogy which he's not taken off since. I'm surprised he made a decision so easily as there were so many items for him to choose from, and the book section could easily cause you to lose a few hours.
He then surprised me by taking me to a restaurant. But this wasn't any old restaurant. This restaurant only sold puddings! Needless to say i was in heaven. In fact i was so overwhelmed that I panicked when the waitress came over and ordered probably the most boring thing on the menu.
A vanilla cake.
At least it was a very nice vanilla cake…The frosting was so light and sweet. Delicious!
I did buy myself an icecream on the way out though…
However, he said he'd take me back again another time so I can order something a bit more exciting. 🙂
We then went home and decided to cuddle up and watch the first Lord of the Rings with some wine and malibu. All together a very chilled out and cosy night.
Definitely a successful anniversary. 
---