Myself and Ashley have been together 3 years today!….or tomorrow. You see we don't really know when we got together as I agreed somewhere around midnight so we tend to celebrate over two days! However we're not doing much today as we have very little money and so just spent a long relaxing morning and afternoon together and both have work tomorrow. I have bought him vouchers for a graffiti art lesson though, although we can't book it for a few weeks as we're too busy!
Still, it's been really nice to spend some time snuggled up together thinking 'how on earth have we put up with each other for 3 years!'. Of course we've had our ups and downs like every couple, but since we've both finally got new, well paid and enjoyable jobs things have been really good and we're as loved up as ever!
To celebrate our anniversary i've decided to give away one of my Penguin cards to one lucky winner, so they can share their love with someone special.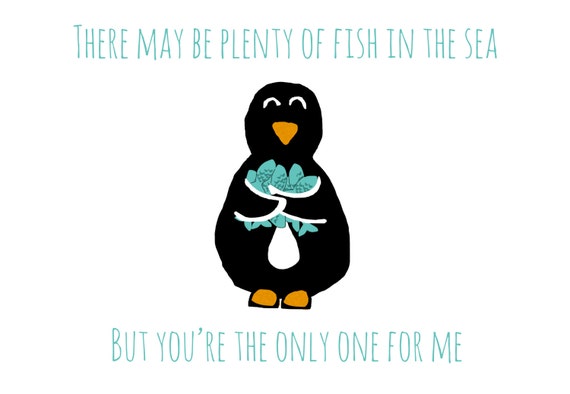 I am actually giving away an extra large card, a size not available in my shop, featuring the adorable picasso and lots of fish (above)! This was my most popular card design over valentines and so is sure to be the perfect way to make someone feel a little special.
To enter to go over to my facebook and then like and share my competition image here.
You have the rest of today and tomorrow (the length of our anniversary) to enter!
Good Luck!
Claire x
---
---
---
May the 4th be with you!
Yes it's Starwars day, and it also happens to be a close friends birthday. Haven't actually bought him anything, but i don't know what to get.
Any ways. Last weekend i visited a friend, or at least he was a friend, it seems to be becoming something more. But i know what i'm like with relationships so i don't want to rush into it. But anyways, he took me out on a nice date and we watched Starwars and we get on really well and i have no reason to say no to him, but i'm female and that means i'm silly. Plus i've been messed about a lot recently and i'm still living with my ex so i'm not sure whether it would be sensible for me to get into a relationship just yet, despite actually quite wanting one, i can see me messing things up big time. I guess we'll just see how things go eh.
Today i've just been trying to do my dissertation as it's in for tuesday. I'm panicking and really want it done before this weekend as the same guy is coming to visit and i want to be able to be sociable.
I also received a disk of an acting job a did a few weeks ago! It came back a lot better than i expected and so is going straight on my film reel! I feel like i'm actually doing something for my career finally which is good 🙂
Oh and I've decided I should go on Masterchef at some point because i am awesome at cooking. Today it was a Lemony Salmon and Prawn stirfry with ginger and soy sauce and all sorts! Nom! Definitely making that one again!
Anyway, time to get back to the dissertation I guess.
Till next time! Stay Happy!
---
A lot has happened since my last post…I'm definitely managing to live my life to the full, only hopefully i wont create a bad name for myself.
Sunday night a guy came over for a few films. Unfortunately he's a friends ex and she got word that he'd stayed over.  It's not like i'm getting with him or anything, he's not exactly my type. She came up to me last night and started having a go at me because you 'never get with a friends ex'. Personally i've never understood that rule, i mean Ok if they're like your best friend and theres a lot of animosity between them and the guy, but seriously, i barely talk to this girl anyway. I really felt like i was back in secondary school again. Surely if two people fall for each other then no-ones got a right to break them apart. I would never dream telling the Ex's new girlfriend (who was kind of a friend) to back off despite how much they've hurt me, i don't have that right. Nobody does.
Yesterday was average, just at uni doing uni things. Then i went out to party. Unfortunately i was on wine, which i've figured really does not end well. I barely remember anything, and the things i do remember are really fuzzy.  I did how ever manage to get with a guy i'd been talking to all winter. I hope he's not just after one thing as i actually think i could really like him. I guess i'll find out.
Today has been a typical hangover day. Didn't get up till late, didn't get dressed for quite a while, failed at doing any work in the library. Now i'm having to quickly do 1000 words for our Choreography Proposal which needs to be handed in tomorrow. I'm so tired it's likely to be crap, but oh well. I don't think it goes towards my grade. Lets hope not anyway.
Better actually get on and write this proposal so i can go to bed.
It is going to be so hard to get up for a 9 O'clock tomorrow.
Stay happy!
---