Recently, to my surprise, my penguin valentines cards have been flying out of the shop! So much so that I'm having to get a lot more printed up and have decided to release a new design!
Pick up this new cute courting emperor penguin couple valentines card here!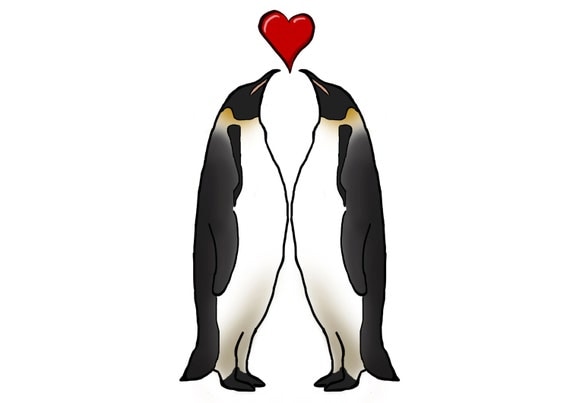 I have many different designs to choose from now so you can choose the perfect one for your partner.
Does your other half make you sing and dance with joy then my 'Happy Feet' card is perfect for you!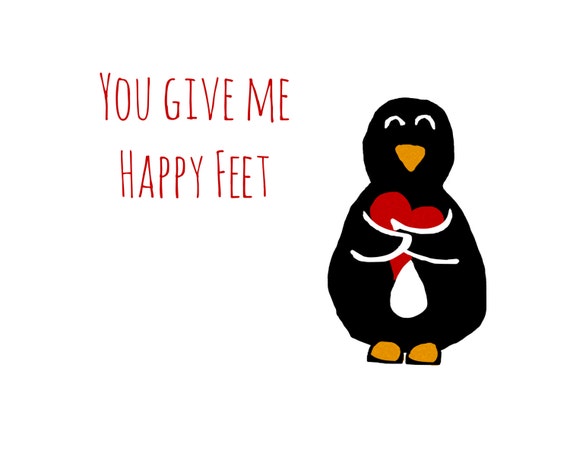 If your partner is the perfect catch, maybe consider my top seller, the 'plenty of fish' card.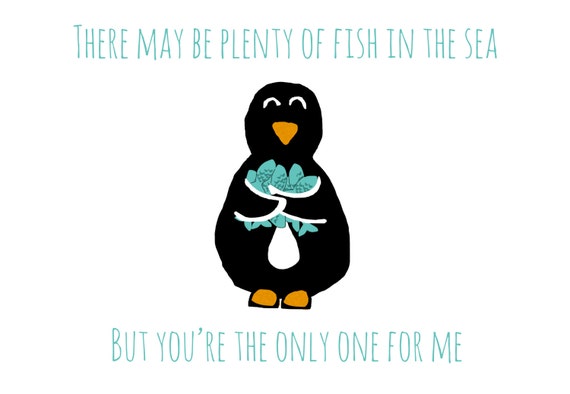 I hope you all have a great valentines with lots of pampering!
Claire x
January 23, 2015 | Categories: Shop News | Tags: animal, animal valentine, Boyfriend, courting, Crafts, digital drawing, emperor penguin, etsy, etsy uk, girlfriend, Handmade, heart, husband, local business, Love, penguin, penguin card, penguin love, plenty of fish, relationship, valentine card, valentines, valentines card, wife | Leave a comment
---
For date G I took Ash to mini golf, but not just any mini golf, this was dinosaur mini golf! 
What I Wore
I went summery with a pretty green, sparkly dress, sandals and a light shirt.
The Date
We started by walking through Richmond Park, one of my favourite places in the whole of London, before catching a bus to the Golf. I've missed our walks and it was just really nice to just be together strolling along and talking about nonsense.
We saw a lot of bunnies which we're out enjoying the sunshine, but we didn't see any deer for once. They must have been at the other side of the park.
Eventually we had to drag ourselves away and actually go golfing. The place itself took a while for us to find the way to and involved quite a bit of walking.
The actual golf was great! The decorations we're brilliant with dinosaurs towering above you, a bright blue river running throughout the whole course and some great dinosaur facts to read whilst you played.
We we're both terrible at playing, especially myself who seems to have a problem with aim, the problem being I don't even try to.
Throughout the course they were playing the most terrible cheesy music, such as the YMCA. I was kind of disappointed by the music as I think it detracted from the feel of the course, although I guess kids coming to play might have enjoyed it. I would have much preferred some Jurassic park-esq music, the kind of music that would make you feel epic as you played.
Final Thoughts
I think it was a great date personally, we both laughed at each others terrible skills, the theme of the golf course made it all so much more exciting and, even though the music was terrible and a little annoying, we got to laugh at the tunes being played. All together i think it was a great place to take a date, wether it's the first or you've been together for a long time.
June 13, 2013 | Categories: Alphabet Dating | Tags: alphabet dating, bad music, Boyfriend, bunnies, cheesy music, date, date g, dating, deer, dinosaur, dinosaur facts, dinosaurs, epic music, exciting, fashion, fenton, final thoughts, first date, girlfriend, golf golfing, good date, great date, green dress, hammock, jurassic park, light shirt, london, long walks, mini golf, misses, nonsense, park, rabbits, relationship, relationships, relaxing, richmond, richmond park, River, sandals, sparkly dress, style, summer, summer dress, summery outfit, sunshine, talking, UK, walking, walks, what I wore, ymca | Leave a comment
---
After a bit of a hiatus on the Alphabet Dating front we have finally gone on Date D!
Ash had been talking about it for ages but we never seemed to find the right time to go. All I knew was that it was in Cockfosters and it was a meal.
The Outfit
As it was a meal I wanted to dress up, even though I had no Idea how posh this place actually was. I had bought this new lace top recently and decided I wanted to wear it. I thought it went well with this pretty, but plain, purple top underneath. The skirt is one of my favourite wardrobe items and had exactly the same shade of purple as my top and so I decided to mix patterns and go for a lace and tribal look! It's a shame my hair is so unruly at the moment (it's in a dire need of styling) as I think the mix actually turned out better than I actually expected! I decided to team it with my usual black tights and pixie boots.
The Date
The place he took me to was a Greek restaurant called Deserie. It was extremely busy (always a good sign) and we were given a table provided we were out in an hour as they already had it booked.
It was a lot more expensive than we were expecting, but then we're used to Wetherspoon prices and are both quite stingy at times. I really fancied calamari but decided the price was a little too much for our budget and so settled for chicken skewers whilst Ash had the pork. The skewers came with a salad and a choice of chips or rice and were delicious! My chicken was tender and succulent, ash wasn't so lucky as the pork was a little tough but still tasty. My rice was soft and lemony and left my mouth watering for more!
For pudding I was extremely tempted by a chocolate fudge cake, but decided that I should go for one of the Greek choices as I can get a fudge cake at my work.
Before our dessert we were given some tasty jelly things on sticks and some pineapples with grapes. Delicious!
I eventually decided on Gelatoboureko, or at least that's what I ordered. I think I was actually given a Baklava after looking on Google as it was a sweet pastry rather than a custard pudding. What ever it was it was delicious, Ash said they tasted a lot like the South African treat koeksisters. He ordered Shamali and Icecream which was a semolina based pudding and also delicious although we both preferred my dish.
End Thoughts
The whole night was very enjoyable. We talked nonstop and we're constantly laughing, one of the reasons why I love being with him, we just always seem to be having fun and very rarely argue. The staff at the restaurant were very friendly, the food did take quite a while to come out but it was extremely busy (and a huge birthday party table ordered just before us) so they can be forgiven. The food itself was delicious, pricey but delicious.
I think we would definitely go again, although maybe when money isn't so tight.
Overall Date D = Success!
Now I need to think of a something to do for Date E! Anyone got any ideas?
March 11, 2013 | Categories: Alphabet Dating, Behind The Penguin Theory | Tags: alphabet, alphabet date, alphabet dating, barnet, black tights, Boyfriend, busy restaurant, calamari, chicken, chicken skewers, chips, chocolate fudge cake, cockfosters, custard, D date, date, date d, date E, date night, dating, Deserie, dress up, expensive, fashion, food, fun to be with, girlfriend, good conversation, Greek, Greek food, greek restaurant, haircut, having fun, ice cream, in need of a haircut, koeksisters, lace, lace top, laughing, layering, london, london fashion, lookbook, Love, meal, meze, mixing patterns, north london, outfit, pineapples, pork, pudding, relationship, restaurant, restaurant review, restaurants, review, rice, romance, romantic, romantic meal, seafood, skewers, style, sweet pastry, tasty food, tribal, tribal skirt, wetherspoon | Leave a comment
---