It is now February, the month of love and my sisters birthday! I actually have a very hectic February planned so expect plenty of updates coming up!
Now i'm not a big believer of Valentines, i think it's pretty stupid really and would prefer my boyfriend to be romantic spontaneously,  but despite pretending not to care i always end up doing something. I know I shouldn't and it really is hypocritical of me, but somehow I do still feel a little bit of excitement and my valentines boycott fails every year.
So this year i've decided to embrace it, I still think it's stupid but it's not going to stop me doing something special and so I thought i'd start getting into the mood early with a valentines treasury or two and some new Items!
I made this penguin themed treasury to celebrate the first of my Picasso digital drawings going up for sale! There were so many cute valentines themed penguins it was hard to narrow my picks down, but eventually I made my final decisions. You can find the treasury here
Picasso is also getting in the mood for love and is sending you all lots of hugs and kisses! You can also send on Piccasso's affections to your loved ones with this super cute card I now have listed in store! It features our very own Picasso hugging a heart close to him and can be customised with your own personal message!
You can buy the Picasso Hugging Heart card right here
I have also just listed this adorable card featuring Picasso with an armful of fish!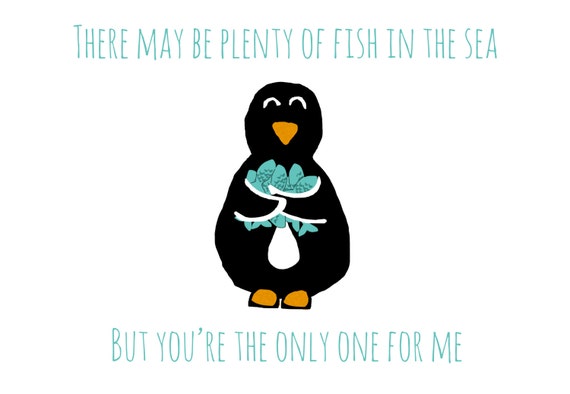 You can find Picasso and his fish here!
Happy February!
Claire x
February 3, 2014 | Categories: Etsy Finds, Shop News | Tags: celebrating valentines day, customisable card, etsy, etsy treasury, fish, Folksy, Handmade, happy feet, heart, Love, love card, penguin, penguin card, penguin in love, penguin valentines card, personalised card, picasso, picasso and fish, picasso the penguin, plenty of fish in the sea, special card, treasury, uk seller, valentines, valentines card, valentines treasury | 4 Comments
---