Today begins the chinese new year and this year is the year of the horse!
To celebrate i decided to dress up a little in this gorgeous dress I bought from the pearl market (a crazy bustling market you will either love or hate) in beijing along with a few matching accessories I made.
Unfortunately the shots are just phone quality as the battery is dead on my camera and I seem to have misplaced my charger. Oops.
I  posed with this cute horse statue I got from Xian (pronounced Shi-an) where the terracotta warriors are found. Perfect with it being the year of the horse! I also have a warrior figure, I just wish I could have bought more!
For my make up I went bold with red lips and pale face inspire by geishas and a glittery gold eyeshadow with an asian inspired flick of eyeliner.
I also bought that fan on my trip to China from a little store in the forbidden city.
In my hair I wore these chopsticks along with a cute flower hair bobble I made. These flowers will soon be available in my Etsy shop so keep an eye out or contact me for more details! I don't know quite where the chop sticks are from, I'm pretty sure my mum and her boyfriend bought them for me on a holiday where they stopped off in hong kong for a flight change over.
I also wore these chinese style earrings I made. Another pair like these should also be available in my store soon.
However, whilst you're waiting for me to list these items (they wont be long I promise! I just need to find my camera charger) I do have plenty of chinese prints available so you too can get into the new year spirit! Just click the image to find it in my shop!
I have also some possible plans for celebrating the new year in crafting style, as long as I'm free to go to the events happening this week.
Are you doing anything to get into the New Year spirit?
Claire x
---
I have been playing with my photography and decided I'd love to make some more interesting things out of it. I got brainstorming and have come up with some good ideas, the first of which is now up for sale!
This is the first of my clock series. I have many more ideas and will be accepting commissions if you have a particular print of mine (or even your own!) which you would like to be turned into a clock.
This modern clock features some gorgeous welsh countryside, complete with grazing sheep!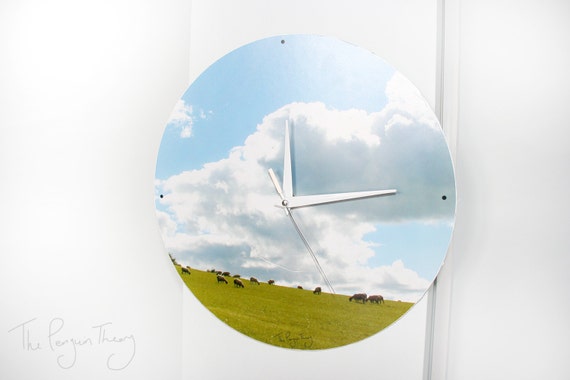 It measures 30cm in diameter. It is also available with numbering or dashes, please contact me for more details.
The back is signed with 'The Penguin Theory' the clock name, and the number of clock made. It runs with a standard AA battery which is easily changeable and has a hook on the clock mechanism to hang it on your wall.
There will be more clocks to come in future as well as more prints and some new sewing items! (Yes i promise I haven't forgotten about the sewing machine)
In other news, I finally got some new glasses! They're just for reading and computing so hopefully I will be able to see what i'm editing a bit more easily now. 🙂
'Till next time!
---