I know i know, i'm terrible and haven't updated my 365 project for nearly a month! But it's ok, i have been taking photos so here's a little catch up.
Warning – Going to be very picture heavy (if you hadn't guessed)
February the 10th saw me driving up to the north with the radio blasting and ash putting in ear plugs to avoid hearing my singing.
On the 11th i saw these amazing blue orchids! My mum didn't think much to them but I thought they were gorgeous! It's a shame I can't help but kill plants. 😦 I am definitely not green thumbed.
I went to go see Frank Turner with my sister and some friends on the 12th. On the way there I was reading a book on photography when a stranger asked me if I was into that sort of thing and told me to visit this gallery. I still haven't got round to it, but the exhibition is still on so maybe i'll go soon.
On the 13th I finally fixed one of my favourite earrings. It's been sat on my desk for so long and I only just got round to gluing it back together. Hopefully I wont break it again!
On valentines day I spent most of the day drawing hobbits and dragons. Not bad in my opinion. I didn't actually do anything with ash, neither of us are particularly bothered by it in all honesty. It's a silly holiday really (we did make an excuse for some snuggle/movie time though of course).
On the 15th I moved my penguin statue, a christmas present from my mums boyfriend and just totally awesome, to a spot where he could keep an eye on my working.
My hair went crazy big and curly on the 16th as I left it in a big plait over night. It's a shame that it's so long and unmanageable at the moment, it just looked like a massive frizz ball! Definitely time for a hair cut.
On the 17th I really enjoyed the contrast between the moody, british sky and these stunning blossoms.
The 18th saw lots of editing work. Nearly a whole day of editing! My eyes definitely needed a rest by the end, but at least I had been very productive. These photo's are amongst my favourites i've ever taken.
On the 19th I found out that I had an interview with London Zoo! I was so excited that I really couldn't concentrate at work, not the best when working in a kitchen. I burnt myself so many times I lost count and nearly chopped my finger off! Luckily my nail stopped the cut becoming any deeper but it was still pretty nasty.
On the 20th I was starting to feel like I lived in this uniform. Working 60+ hour weeks, 6 days out of 7 most of the time and just constantly tired. I was starting to want just a day to pamper myself, wear make-up and look pretty but I just don't have the energy even on my days off.
The 21st I was starting to feel positive. I was super excited (and nervous) about this interview and also knew it wasn't long until Legoland wanted me back, plus i was about to drive up north for a wedding! Life was definitely about to get fun, I just had to stick it out at the pub for a little longer. This mirror is above our bed and was there when we moved in. We're far too lazy to take it off and I actually kind of like it. It makes me smile.
The 22nd was the wedding of two very close friends! Unfortunately I forgot my camera (silly me) and my phone was dying so I didn't take many pictures, but I did snap this cute picture of the first dance. The groom had changed into some more comfortable shoes for the party side of the wedding, as had the bride who was now wearing bright pink converse under her dress. Such a lovely day! I'm so happy for them both!
On the 23rd I went back to the south, but before I did I managed a little switcheroo at home, giggling like a naughty school girl the whole time. Mum has never got round to putting up my graduation picture (the woes of a second child!) and so I put mine in my sisters place. I don't think she's noticed yet, until she reads this blog post…*evil cackle*
On the 24th i received this sewing pattern I had won! I can't wait to get stuck in!
On the 25th was my interview with London Zoo! It ran from 9-5 with lots of group exercises, presentations and other things to really get to know if we were right for the job and was such a fun day! It honestly made me want to work there even more, which I didn't think was possible. I somehow managed to get a selfie with a penguin as well!
After the long interview and then rushing off to work for a close, I wasn't feeling very awake on the 26th and drank far too much coffee.
On the 27th I got the news that I got the job!! I was so excited and i'm pretty sure I asked the person on the phone 'Really?!' several times. I celebrated with a glass (or two) of Merlyn, it's like Baileys but so much better! I'm still convinced they're going to ring up and tell me they made a mistake, but It's quite honestly a dream come true!
On the 28th I started counting down to my start. I wrote it on my calendar and was still bouncing off walls.
On the 1st of March I received a congratulations card from my mum, complete with penguins of course!. How lovely 🙂 And yes, still bouncing off the walls at this stage.
On the 2nd there was a gorgeous rainbow! I could see the whole thing (I haven't got round to editing those pictures yet though). If only I could find the pot of gold at the end…*sigh*
So that's me all caught up to this week! I will be posting these weekly as usual from this sunday.
February was most definitely a very exciting month and I'm sure that March will be just as exciting!
Claire x
---
As the title might suggest, this post will be very picture heavy. You've been warned!
I always believe that you should make your life an adventure and I often take the time to notice the random things going on around me, making even a trip to the shops an exciting experience. Because of this I usually find I notice things that I would love to photograph but never seem to have my camera on me,  such as the time I saw cows crossing a motorway bridge with the words 'Rural Revolution' graffitied below.
I have decided that I need to take advantage of these moments and so, not only am I going to make an easy to carry camera bag, i'm setting aside time every now and again to go on a Photography Adventure. Just me, my camera and an adventure!
Ok so maybe Ash can join on a few adventures. 😉
Not only do I believe that this could result in some great fun and photographs, but I am also hoping that it will improve my photography skills as I challenge myself with shooting on Manual settings and in lots of different lighting and situations.
I went on my first official Photography Adventure on monday. I decided just explore my area, we've only just moved here (although it's not that far from our old place) and I thought it would be a good way to learn about where I actually live.
The area we live in is called Muswell Hill in North London. It quite posh and full of crafty and vintage shops. I should've taken some photo's of the highstreet but I forgot to get my camera out until I had passed the high street and saw this amazing view from a car park just 10 minutes from my house!
I had to stand on top of a pretty precarious wall to get this shot and I knew that I could get better elsewhere and so I moved on.
I found some amazingly steep and quiet streets and just had to text Ash as they would be perfect for practicing slides and cornering on when long boarding (with a spotter of course). A lot of the houses I found must have had incredible views from their back windows and balconies. I saw so many houses I would love to live in! There were loads of the old Tudor styled houses, the type of house i've always dreamed of!
I wandered along these back streets for a while until I happened upon Alexandra Palace (Ok so I followed the BBC tower as I knew there were good photo's to be took here). The views from Ally Pally are amazing, it also has an ice rink, a boating pond, Fallow Deer and regular gigs. Plus it's only a 5 minute walk from my house now!
I sat for a while, eating a breakfast bar, admiring the view and taking a few photo's
Soon though, my bum became too cold and so I moved on. Wandering down to the paddocks to see Alexandra Palaces Fallow Deer Herd. I only learned they had a deer herd recently despite visiting often, but now I make sure to visit them each time I go.
On the way to the deer I noticed a squirrel sitting in the grass. I love squirrels (yes, even the grey ones) and so I had to take some photos!
For these shots I played around with a very shallow Depth of Field and feel it really adds to the shots making the foreground out of focus and so the squirrel is the main point of interest.
Next I found the Deer. They were quite far away from the fence to begin with but soon started travelling towards the right hand side of the paddock. I ran over (yes I actually ran) so that I could get some good shots of them walking towards me. Unfortunately, in my excitement, I forgot about the manual settings and so a lot of the photos came out too dark, even for editing. I did manage a few good shots once i remembered though.
Whilst taking these images I got talking to a man who was walking his dogs. We both agreed that these deer were just beautiful animals!
Soon my hands we're feeling frozen and so I had to tear myself away from these beautiful animals. I decided it was time to go home as I already had a pretty bad cold and didn't want to get any sicker.
On my way back home I passed the boating lake where this coot was hunting for food. I took a few pictures of it diving under the water before finally heading home to see the spoils of my adventure!
I really hope to do another adventure soon and already have a few places in mind!
Anyone else been on an adventure lately?
---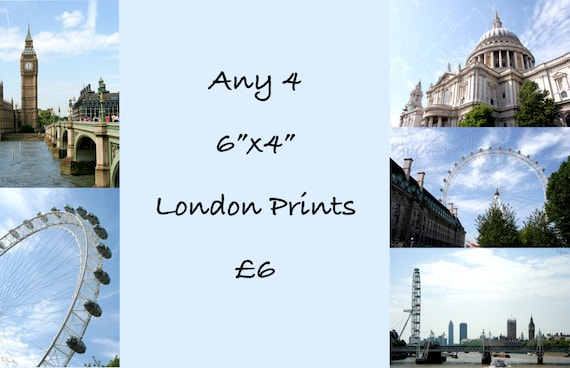 Now available in my shop is your choice of 4 of my London 6×4 prints for only £6!
Choose from any of my london prints (priced at £3.95 separately) to create your own collection. There are lots to choose from and even more to come!
Express your love for this iconic city with your very own set to decorate your shelves. These 6×4 prints would look great in frames for any London Lover.
All are printed by a professional photo lab on archival paper. Watermarks will be removed and replaced with a small logo on or around the print.
Other sizes of all photographs as well as mounting, laminating and canvas prints are available. Please contact me for more details.
I really do love london (although living here is maybe a little too expensive). I think my favourite place to go is the natural history museum. It's just such a beautiful building and holds so many weird and wonderful things! I also love the south bank as there's always so much going on! And you can't forget the many parks dotted around for nice relaxing summer days!
What's your favourite thing to see and do in London?
---