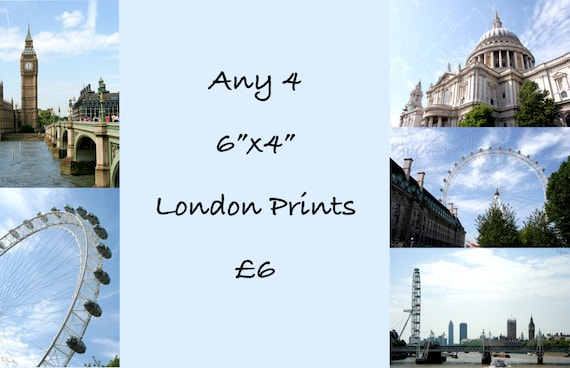 Now available in my shop is your choice of 4 of my London 6×4 prints for only £6!
Choose from any of my london prints (priced at £3.95 separately) to create your own collection. There are lots to choose from and even more to come!
Express your love for this iconic city with your very own set to decorate your shelves. These 6×4 prints would look great in frames for any London Lover.
All are printed by a professional photo lab on archival paper. Watermarks will be removed and replaced with a small logo on or around the print.
Other sizes of all photographs as well as mounting, laminating and canvas prints are available. Please contact me for more details.
I really do love london (although living here is maybe a little too expensive). I think my favourite place to go is the natural history museum. It's just such a beautiful building and holds so many weird and wonderful things! I also love the south bank as there's always so much going on! And you can't forget the many parks dotted around for nice relaxing summer days!
What's your favourite thing to see and do in London?
---