---
On Saturday I went to see my sister in London. We went to Old Spitalfields market to have a gander of all the different products. There were some really amazing products and some great, quirky inspiration! It was actually a very good eye-opener for me who is having trouble with which direction to take my business next. I know I need a more cohesive theme but i'm struggling to find my niche. I recommend anyone having the same trouble to go and have a gander around other handmade shops, businesses and market places. Look at what they do, how they present their products and gain inspiration from their products (baring in mind that copying and inspiration are two completely different things of course).
I actually ended up buying this adorable Penguin Print from Katie Viggers and can't wait to get it framed and up on my wall (although knowing me it will probably stay in it's protective envelope for far too long)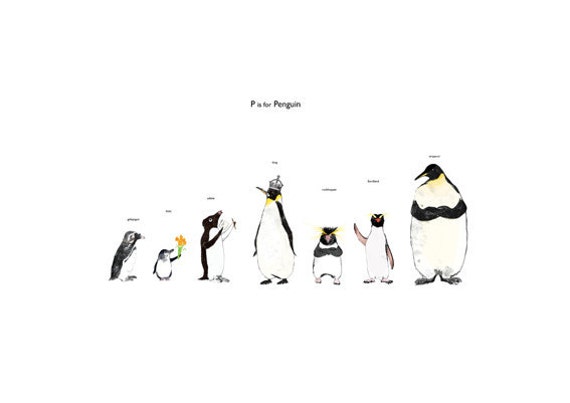 We then wen't for a bit of retail therapy around the corner in a shopping centre. I ended up spending far too much money in H&M but definitely don't regret any of my purchases. I got an adorable dress with a christmas light print and mesh layer on top, a snazzy jacket and two pretty t-shirts (one bought for me by my generous sister who saw me pining after it). I also spent my Next christmas voucher on a snazzy pair of sunglasses!
A very successful shopping trip!
We then decided it was time for a bite to eat and had some business chat over a bowl of chips and a few drinks.
We brainstormed about my business and where i wanted it to go next. We talked about the items we had seen at the market and how I could make similar things with my own unique stamp on them. Most of all we talked about how I could make my shop cohesive and about how to market my products.
It was really useful to have a big chat about the shop and has really helped me to see what I want for it in the future.
I feel i have more direction with my business now. I just need to wait for a few more supplies to arrive for me to really get stuck in, but I promise there are exciting things for the future, i just need to make sure I stay motivated and don't procrastinate too much.
'Till next time!
---
I was so excited when I opened up my curtains to see snow billowing down from the sky this morning. I know the white stuff is highly annoying to some as it often coincides with bitter cold winds, icy paths and (at least in the unprepared UK) transport delays, but I still feel the childish sense of joy every time I see a flake whirling it's way to the ground.
Unfortunately I'm extremely full of cold (thanks mother!) and so just couldn't muster up the energy to play and make snowmen for today, but I did manage to get outside and crunch around for a little bit before running back inside to the warmth!
Of course for this I needed the perfect warm weather coat and, as luck would have it, I think I own it!
I bought this coat last winter from H&M and have never regretted it. It constantly gets complements and is so warm and snuggly! The fur around the collar makes me feel like a proper lady and is detachable so that it doesn't get ruined in the wash! The material is super warm, which is just as well because it's so well fitted around the waist that I can't wear any thick jumpers under it! Plus the colour is just gorgeous!
I think everyone should own a fantastic winter coat. What is yours like and what makes it so great?
---