I haven't done one of these in AGES and I felt it was finally time to get back in the habit of making treasuries. It's really enjoyable and gives a chance to look at all the weird and wonderful things Etsy sellers have to offer!
I decided to go for a valentines theme, as it is nearly that time of year again, but wanted to give it an unusual twist. Here are a collection of items that are either unusual in themselves or not very conventionally valentines. For all the items you can find them on Etsy by just clicking the image!
Hope you enjoy!
1) Heart Little Breath Pair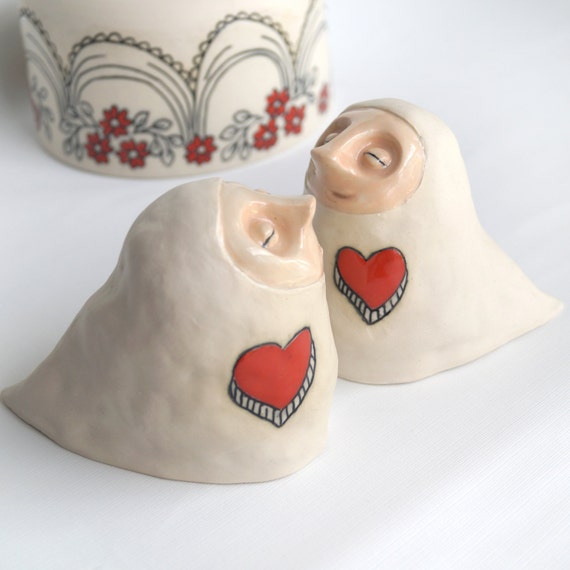 I don't think I need to explain why these are included, they are very unsual. They remind me of something you might find in a Studio Ghibli film, maybe that's why I like them. They certainly have a charm to them and would be a cute edition to a bookcase or sideboard.
2) Watercolour Love Red Umbrella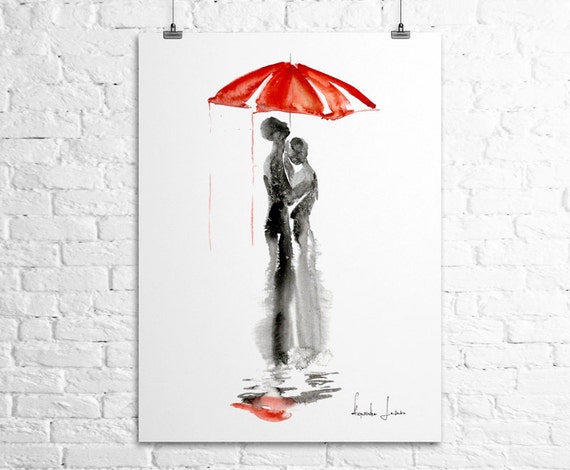 This one is included as I feel it has a very sombre feel to it, something not usually associated with valentines day. However I do think that this is a very beautiful print, I especially love the streams of red coming off the umbrella, gives a good sense of the downpour this couple could be caught in.
3) The Heart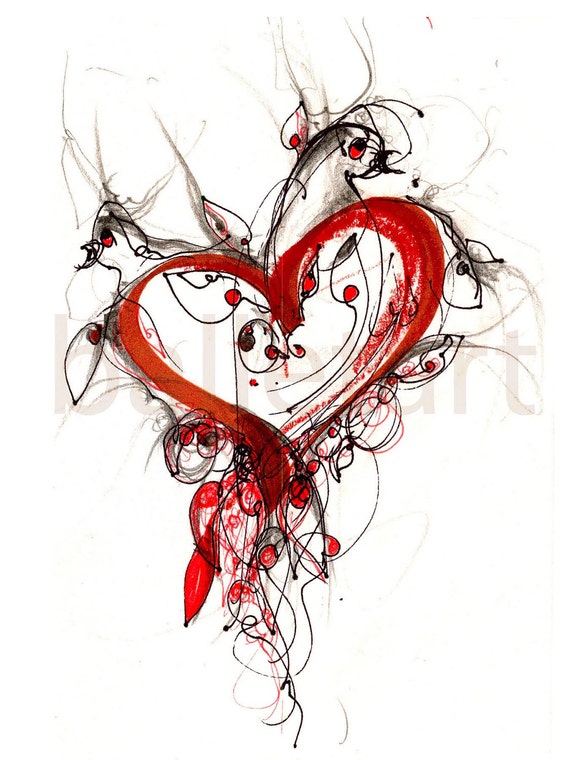 This simple, but expressive piece would make a great statement piece in your home, or even a great card (if the seller were to sell cards).  I love the messy approach and think this is a very cool piece.
4) Circuit Board Cufflinks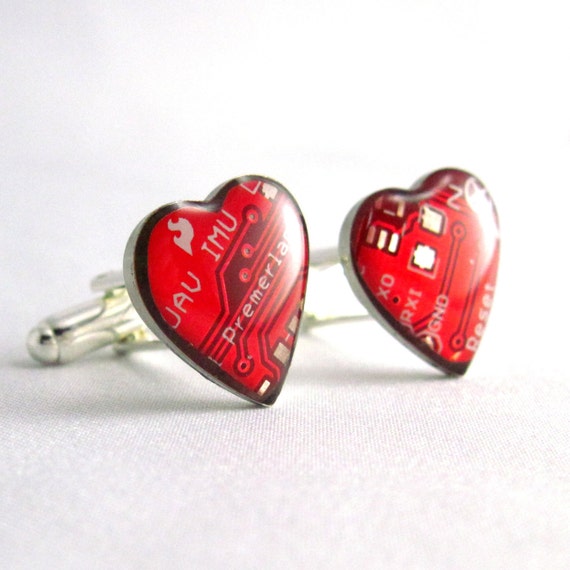 These cool cufflinks would be great for any computer geek (just like my boyfriend!) or even just someone who likes gadgets (so most guys then). The whole shop is full of these awesome geeky items and is a personal favourite of mine.
5) Personalised Champers Kit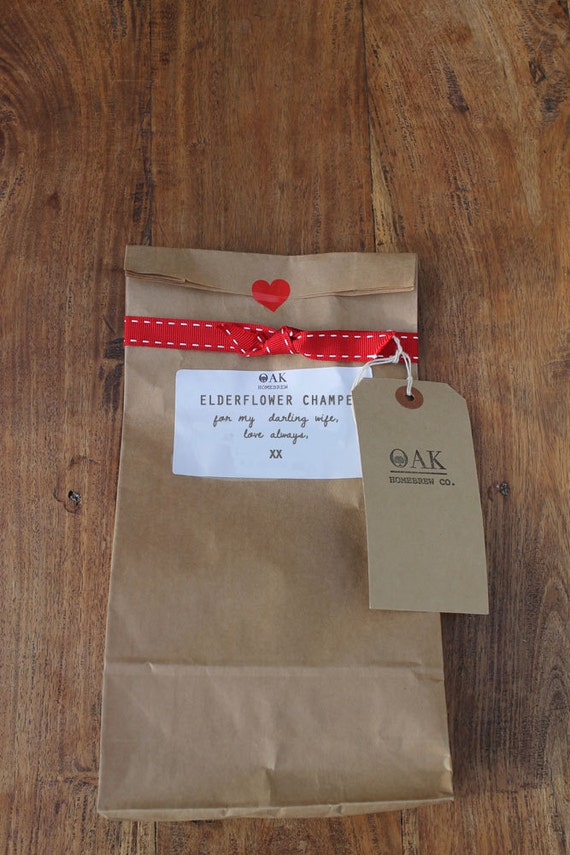 Drinking champagne might be something done quite often on Valentines day, but making your own isn't! In all honesty i'd probably enjoy the making more than the drinking! It would definitely be a cute thing to do with your loved one, and even if it isn't ready for the day itself it would give you a good excuse to have another romantic night in.
6) Anatomical Heart in a Jar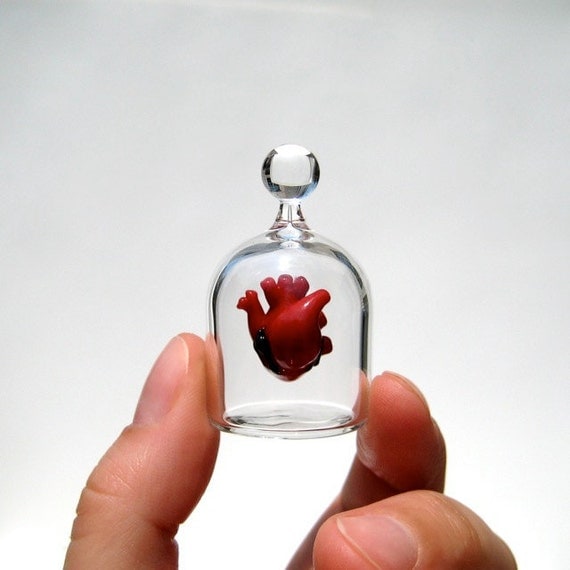 This hand blown glass item is the perfect gift for someone who hates the unrealistic heart usually associated with love and valentines. Not only does the bottle look gorgeous but the heart is captivatingly intricate. Definitely a cool piece to display in your home.
7) Valentines Bear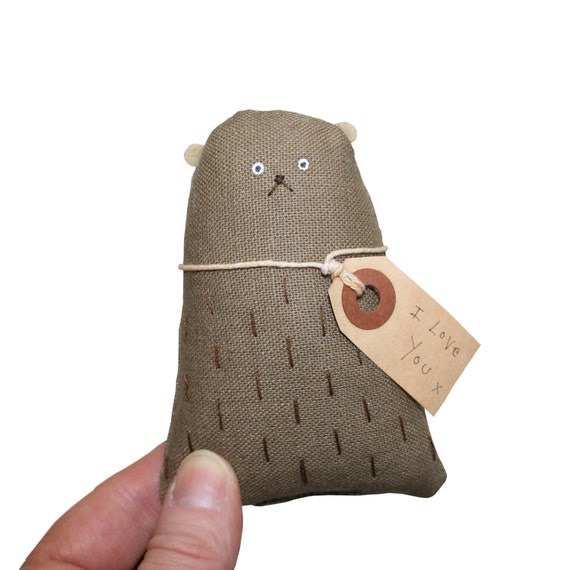 Teddy bears are a very common valentines day gift but they usually hold roses and hearts and other things that make me want to vomit (i'm not the most girly of girls when it comes to these things). This bear is a whole lot cooler, and cuter! Plus it could be the perfect gift for both men and women!
8) Love Letter Cookies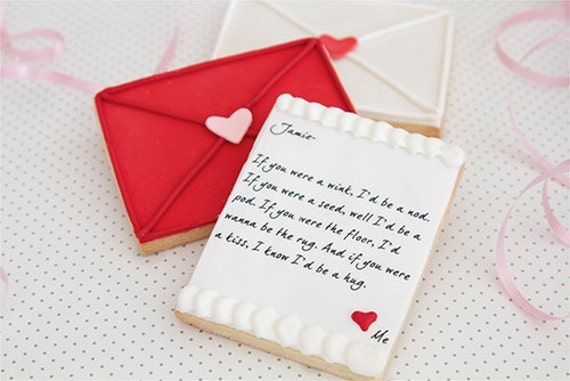 Love letters are very popular for all those lovey-dovey couples out there, but if you want something a little bit different why not make those letters edible! We all know girls love sweet things, and what better than to cover those sweet things with a poem that will probably make her cry! You'd be the best boyfriend ever, until they're all eaten up at least.
9) ClockWork Heart Tie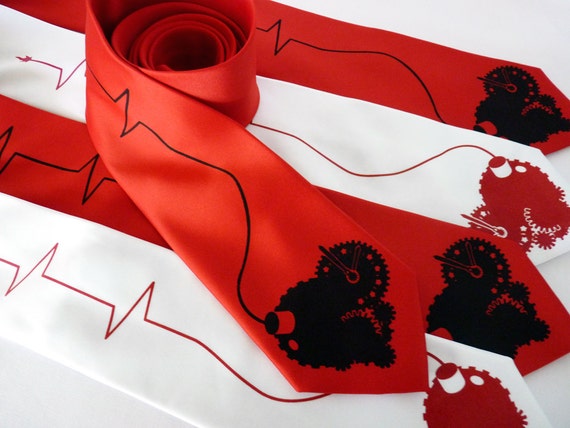 This unusual tie is pretty cool and would be a great gift for the man in your life, especially if he likes unusual ties.
10) Little Sculpture holding Heart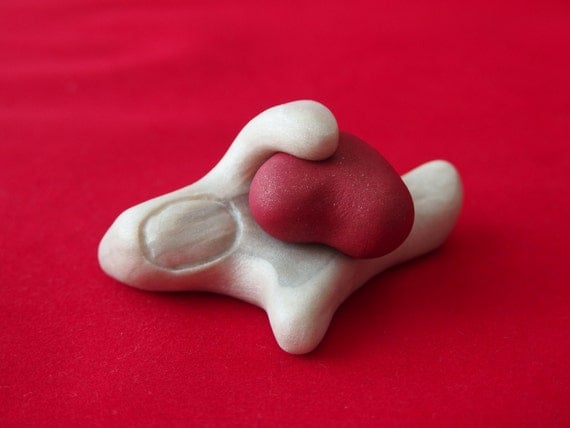 This cute sculpture is part of a 'star series'. These cute and quirky items are really fun to look at and would make a great, inexpensive gift for someone special.
11) Valentines Bike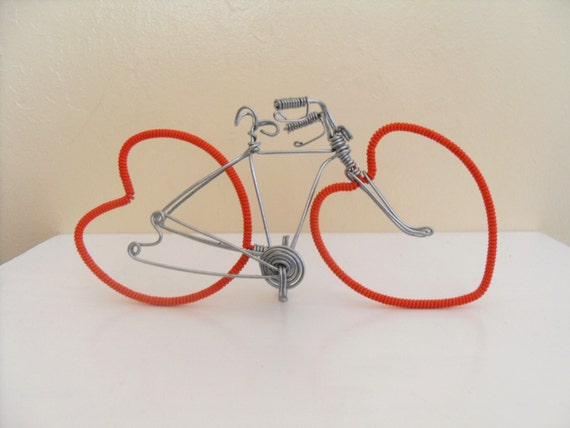 I found some similar bike sculptures (although not heart themed and probably not by the same person) when I went to amsterdam and bought one each for my mum and her boyfriend. They are super cool and a great gift for any bike maniac.
12) Egg Valentines Card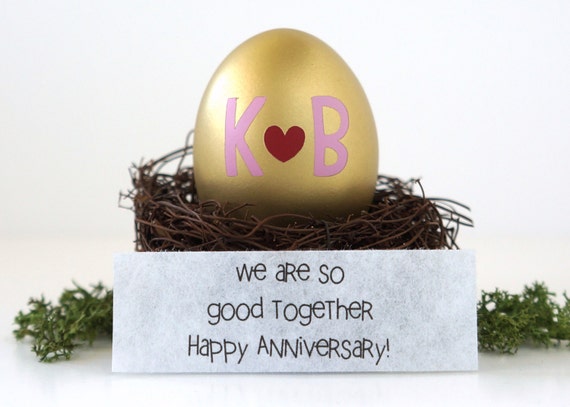 Bored of the standard valentines greetings card? Well this shop makes 'cards' out of real chicken eggs! Your personalised message is put inside your chosen egg and you have to crack the egg open to read it which almost seems a shame as they're so cute!
13) Longitude and Latitude bracelet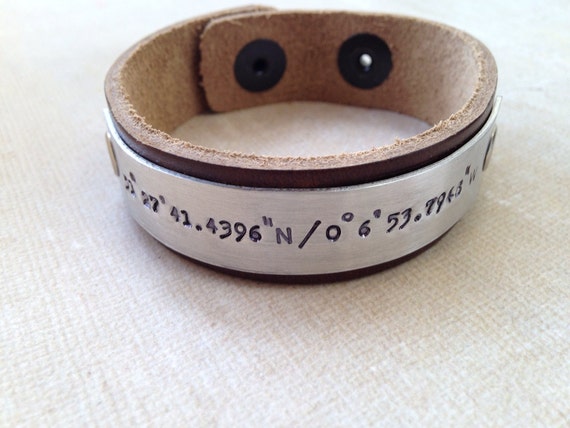 I love the rustic look of this bracelet and it can be personalised to have your own co-ordinates on! Maybe you could have it set to the place you both first met, your home, where you were proposed to, anywhere of real significance to the relationship.
14) Wooden Card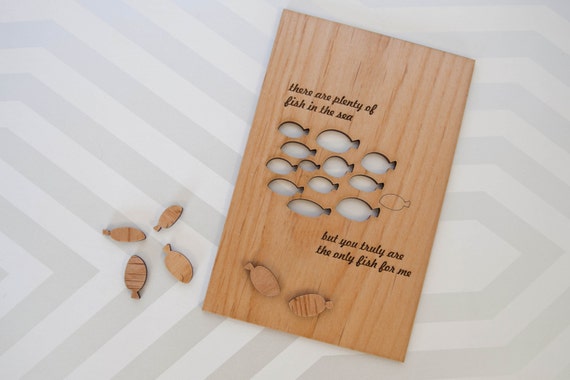 Another unusual card option. These look beautifully made and can double up as the actual gift as they can be kept on display with the mini easel the shop also sells. Just lovely!
15) Heart Shaped Chalkboard Stickers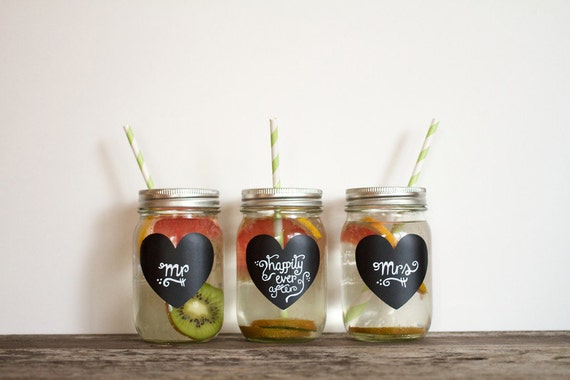 Ok, bit of a strange choice I know, but i think these stickers could be really cute for creating your own valentines gift. Stick them on jars and fill with love heart sweets, or make a valentines day picnic labelled with them, there are so many possibilities! I think they would be great for a personal touch to your gift and look pretty cool, plus you can always wipe off your message and use them again.
16) Heart Nose Ring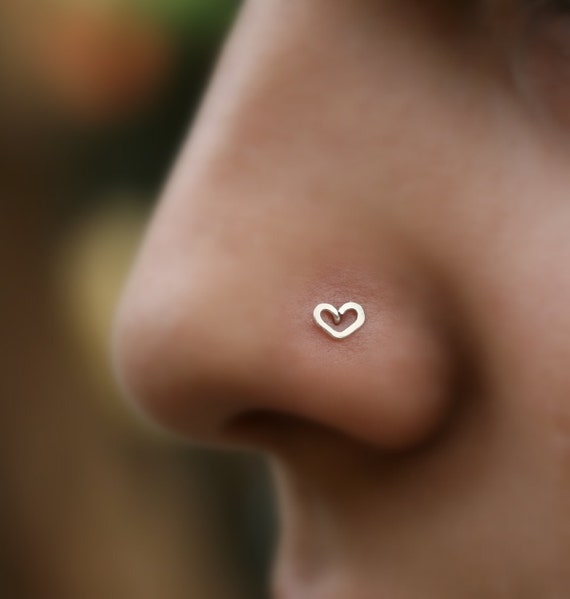 Nothing says 'Valentines Day' quite like jewellery, but lets start steering away from the expensive diamond rings, they are far too special for a day where you're practically forced to be romantic. Instead get something cute like this adorable little nose stud, i kinda wish I had my nose pierced just so I could buy this.
What unconventional things are you planning for this valentines? Or what sort of unusual things have you done in the past? I'd love to hear your stories!
January 24, 2014 | Categories: Etsy Finds | Tags: a different valentines, anatomical heard, art, bear, bike sculpture, brew, chalkboard, chalkboard stickers, champagne, champers, circuit board, circuit board cufflinks, circuit board cuflinks, clockwork heart, cookies, cufflinks, custom, cute bear, different, diy, edible love letter, egg card, etsy, etsy finds, etsy gifts, etsy treasury, etsy valentines, glass jar, glass sculpture, hand blown glass, heart, heart bike, heart chalkboard, heart cufflinks, heart jewellery, heart nose stud, heart sculpture, heart shaped, heart shaped cufflinks, heart tie, intricate glass, kit, longitude and latitude, longitude and latitude bracelet, Love, love letter, love umbrella, make your own, mens bracelet, mens gifts, nose stud, personalised valentines, piercing, plenty of fish, red, red umbrella, romantic night in, sculpture, star sculpture, studio ghibli, stuffed bear, tie, treasury, unconventional, unusual valentines, unusual valentines card, valentines, valentines bear, valentines bike, valentines cookie, valentines day, valentines egg, valentines jewellery, valentines men, valentines sweet, valentines tie, valentines women, watercolour, weird, wire bike, women gifts, wonderful, wooden card | Leave a comment
---
I wish I could say that this was the outfit I wore for my Valentines date, but unfortunately not.
I didn't get to spend valentines with my boyfriend as I was working a 10 1/2 hour shift! Luckily I'm not a big fan of Valentines day, personally I see as just a day for all the rubbish boyfriends to buy cheap tat to try and prove their failing love. If I want a guy to romance me I don't want him to do it because he was told to!
Still, I decided to buy us the 2 for £20 meal deal from Marks and Spencers for when I got home, Ash had been wanting to eat steak for a while and it was such a good deal I couldn't resist!
Luckily I went in early, things like this always sell out. When I passed the M&S later on there was a massive queue of cars coming out of the entrance. I definitely made the right move to go early!
Unfortunately the Wetherspoons I work in also had a Valentines deal on. I knew it would be busy but I didn't actually realise how busy we would be.
It was absolute mayhem all night. Luckily we had one extra staff member as a girl didn't realise her shift had been changed and turned up. She regretted it soon enough.
To put this all in perspective for you, a £300 hour is super busy for us, as in the bar will be full (sometimes 2 or 3 people deep) and we'll be so rushed off our feet we don't have time to wash any glasses, tidy up the bar or floor, or generally do anything other than serve.
We managed a £340 hour JUST ON FOOD. It was horrible. We ran out of the Steaks, a curry, cheesecake and all but our red wine from the deal around 7pm. This left 3 hours of serving (including a booking for 18 people) with a very limited menu. The managers did everything they could to help the irate customers, (although most were still in good spirits) and we did somehow manage to keep serving until 10.
Matters weren't helped when customers kept moving seats and not telling us where so that we didn't know where the meals were going. Near the end of the night a gentleman came and told us he was moving tables, we about nearly hugged the guy right then and there! He was definitely the favourite customer of the evening, I kinda wish we could have given him free dessert or coffee or something! (But that's out of my control)
I was so knackered when I home that I actually found it hard to eat this delicious menu that Ash cooked in time for my arrival. Some how I managed it though and it really was superb!
For starters I know Ash loves his salmon, so I managed to find these strange salmon things in the offer. Apparently they were a pea, spinach and wasabi mousse topped with Creme Fraiche and smoked salmon pieces. I was a bit dubious about them, mainly because I had no idea what they could taste like, but oh wow we're they good. Extremely fishy and creamy. Absolutely delicious! Unfortunately I was struggling in my tired state and gave my last couple of mouthfuls to Ash.
For the mains we had steak, I think the starter had woken me up a bit my this point (first thing I'd eaten for quite a while) and so was able to manage this course. Ash has been complaining for so long about having steak so it had to be done! I got these Rump Steaks with Peppercorn Sauce and a side of Gastropub Chunky Chips. First off, the chips were fantastically chunky. Light and fluffy on the inside, crunchy on the outside! Perfect! The steaks were also delicious! Ash cooked them to perfection! They were so tender and moist, it's actually making my mouth water thinking about them!
Unfortunately I did learn that I dislike Peppercorn sauce. It's just far too peppery! I"m not a big fan of pepper anyway (I know, what did I expect?!), but this was just horrible! I ended up scraping it off my meat so that I could taste it! It is a very overpowering sauce. However I don't believe that was anything to do with M&S, I doubt I'd like any kind of peppercorn sauce!
For pudding I bought us these Milk Chocolate and Praline Pyramids. Chocolate mousse with a blob of praline cream in the middle, sat on a praline wafer base and topped with some Dark chocolate.
We didn't actually eat these until the day after, but they were so yummy (although a little sickly)! It was delicious! Wonderfully smooth and chocolately, just what I needed!
I still haven't even drunk my wine (I chose Petit Chablis as it was the most expensive wine that wasn't a red) or eaten the little heart shape chocolates that came with the deal as well! I look forward to those.
Straight after our meal I fell asleep. I was so tired there was no keeping me up.
We decided that we hadn't really seen much of each other and so yesterday decided to go on a nice little date together. We had a lovely meal at a local Harvester and spent some quality couple time together. It really was very nice.
I wore my new cape, Ash's favourite dress to see me in and even did my nails all valentinesy!
Today I have another 12 hours of work, tomorrow I have an even longer shift! At least I have my pretty nails to keep me happy…
This really is getting too tiring, I just want to sew!!
Hopefully I will be able to update again soon!
Until next time!
February 16, 2013 | Categories: Uncategorized | Tags: 12 hour shift, 2 for £20, 3 course meal, absolute mayhem, annoying customers, arse raped, asian, asian food, asian starter, barry m, busy, cape, capelet, chocolate mousse, chunky chips, cooked to perfection, Crafts, customers, dark chocolate, exhausted, fancy nails, fashion, fashion penguin, favourite dress, food, happy customer, Harvester, heart, heart shaped, hectic work, irate customers, knackered, long work hours, M&S, marks and spencer, marks and spencers, meal deal, meals, milk chocolate, mousse, nail art, need a break, nice customers, number 17, outerwear, overpowered, penguin fashion, peppercorn sauce, Petit Chablis, pink steak, polite customers, posh, praline, praline cream, pretty nails, pub work, pyramids, quality couple time, rammed, rare steak, red nails, restaurants, right move, rude customers, rump steak, Salmon, salmon starter, Sewing, sewing project, shift from hell, silk, sparkly nails, spoonful of yummyness, starter, Steak, style, the penguin theory, tired, too much work, two for twenty pounds, valentines, valentines chocolates, valentines day, valentines hell, valentines meal, valentines nails, wafer, wasabi, wetherspoons, wine, winter fashion, working too hard | 6 Comments
---