I have a new endeavour to go hand in hand with my wildlife photography in progress and so set out to Alexandra Palace to see the fallow deer that will be featuring in it. Unfortunately they had all disappeared! I assume they are inside and away from this bitter, cold weather, but it was quite a disappointment. I do have some ideas for what I can do with some other creatures, though, whilst I wait for their return.
So as not to waste our trip, I got Ash to take a few photographs of me in my newest creation! A sparkly, flowery, cosy infinity scarf! It really was very warm and cosy.
The outer fabric is the same as with my cape, and beautiful black, shimmering fabric I just adore. Hopefully I can buy more of it soon as I've more or less run out!
The inner fabric is a gorgeous, silk-like fabric which feels lovely against the skin and features a pretty flower design.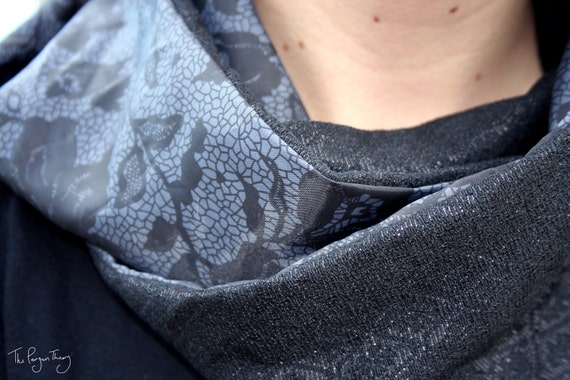 The scarf can be worn in the depths of winter with a thick coat to keep you nice and toasty warm, but it is also a good match with a simple t-shirt in slightly warmer weather.
I wore it with a plain black top, and big black waisted belt finished with this gorgeous blue skirt. I felt that the flower patterns in the skirt and scarf complimented each other well, plus I am just in love with this skirt (a bargain £3 from Primark!)
As it was a rather cold day I also wore tights with knee length socks to keep my legs warm, and these adorable fluffy boots!
Finally I finished the outfit off with some earrings I made for myself ages ago (more like I loved them so much I couldn't bare to part with them). The blue matched perfectly and the chain drops gave a sense of elegance to the outfit.
My make-up was simple. Just a light pink on my eyes with some winged liner and a hint of pink on the cheeks and lips.
Hopefully the Fallow deer will return soon, but for now you can find this scarf listed in my shop right here
Have fun!
Claire x
---
---
Sorry for the brief absence, between long hours at work and being sociable I seem to have neglected my blog. I promise I made the most of my free time whilst I wasn't updating though.
Last weekend I met my sister on the southbank and went to a chocolate festival! There were so many stalls selling all kinds of chocolates! Gifts, snacks, quirky little things, big delicious things, solid things, liquid things. You name it, they had it (in chocolate at least).
I bought an amazing Lion shaped chocolate I just don't dare eat (i will have to take a photo for you all to see!) and we bought a bag of flavoured chocolate lollypops.
Emma and I then decided to retreat to the warmth of a pub and chat over a bottle of very tasty wine. Ash and my sisters boyfriend then met up with us for some lunch. Ash and Sam were men and had steaks, I had some delicious scampi. It was really nice, and the first time the four of us have done something together. The boys talked gaming and we all had a nice chat about TV shows we watched, soon though we had to leave. My sister had a party to go to and we'd invited some friends to a RollerDisco, the very same place Ash and I went on our first meeting.
The Rollerdisco was brilliant as usual although we left earlier than I wanted, probably for the best as I had work the next morning. Again we didn't dress up and again I wished I had! There were some truly awesome outfits, lots of flares, bright colours, super heros. My favourites by far were the group dressed as retro games. My two absolute favourites being Twister and the Rubix Cube.
Twister
This girl had made a very pretty dress out of twister fabric. It was simple but it didn't need anything else. She also wore a Twister board on her head, very creative although it looked a bit like she had just graduated!
Rubix Cube
This outfit was just so quirky and brilliant I couldn't resist a sneaky shot! I wussed out at actually going up to the girl and getting a picture with her though, kinda wish I had now. She wore a Rubix Cube on her head and had a matching handbag. Her dress was a retro, colour block number and was pretty stylish as well is fitting in with her theme! I think I might have to steal this in future, i just loved it! She looked fab!
Don't forget to enter my competition here or here!
'Till next time!
---