I have been playing with my photography and decided I'd love to make some more interesting things out of it. I got brainstorming and have come up with some good ideas, the first of which is now up for sale!
This is the first of my clock series. I have many more ideas and will be accepting commissions if you have a particular print of mine (or even your own!) which you would like to be turned into a clock.
This modern clock features some gorgeous welsh countryside, complete with grazing sheep!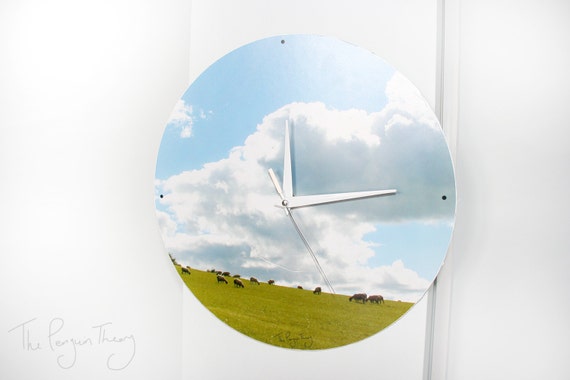 It measures 30cm in diameter. It is also available with numbering or dashes, please contact me for more details.
The back is signed with 'The Penguin Theory' the clock name, and the number of clock made. It runs with a standard AA battery which is easily changeable and has a hook on the clock mechanism to hang it on your wall.
There will be more clocks to come in future as well as more prints and some new sewing items! (Yes i promise I haven't forgotten about the sewing machine)
In other news, I finally got some new glasses! They're just for reading and computing so hopefully I will be able to see what i'm editing a bit more easily now. 🙂
'Till next time!
---
On Saturday I went to see my sister in London. We went to Old Spitalfields market to have a gander of all the different products. There were some really amazing products and some great, quirky inspiration! It was actually a very good eye-opener for me who is having trouble with which direction to take my business next. I know I need a more cohesive theme but i'm struggling to find my niche. I recommend anyone having the same trouble to go and have a gander around other handmade shops, businesses and market places. Look at what they do, how they present their products and gain inspiration from their products (baring in mind that copying and inspiration are two completely different things of course).
I actually ended up buying this adorable Penguin Print from Katie Viggers and can't wait to get it framed and up on my wall (although knowing me it will probably stay in it's protective envelope for far too long)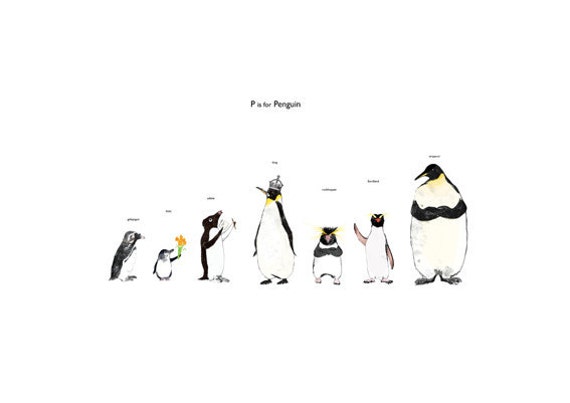 We then wen't for a bit of retail therapy around the corner in a shopping centre. I ended up spending far too much money in H&M but definitely don't regret any of my purchases. I got an adorable dress with a christmas light print and mesh layer on top, a snazzy jacket and two pretty t-shirts (one bought for me by my generous sister who saw me pining after it). I also spent my Next christmas voucher on a snazzy pair of sunglasses!
A very successful shopping trip!
We then decided it was time for a bite to eat and had some business chat over a bowl of chips and a few drinks.
We brainstormed about my business and where i wanted it to go next. We talked about the items we had seen at the market and how I could make similar things with my own unique stamp on them. Most of all we talked about how I could make my shop cohesive and about how to market my products.
It was really useful to have a big chat about the shop and has really helped me to see what I want for it in the future.
I feel i have more direction with my business now. I just need to wait for a few more supplies to arrive for me to really get stuck in, but I promise there are exciting things for the future, i just need to make sure I stay motivated and don't procrastinate too much.
'Till next time!
---