Today begins the chinese new year and this year is the year of the horse!
To celebrate i decided to dress up a little in this gorgeous dress I bought from the pearl market (a crazy bustling market you will either love or hate) in beijing along with a few matching accessories I made.
Unfortunately the shots are just phone quality as the battery is dead on my camera and I seem to have misplaced my charger. Oops.
I  posed with this cute horse statue I got from Xian (pronounced Shi-an) where the terracotta warriors are found. Perfect with it being the year of the horse! I also have a warrior figure, I just wish I could have bought more!
For my make up I went bold with red lips and pale face inspire by geishas and a glittery gold eyeshadow with an asian inspired flick of eyeliner.
I also bought that fan on my trip to China from a little store in the forbidden city.
In my hair I wore these chopsticks along with a cute flower hair bobble I made. These flowers will soon be available in my Etsy shop so keep an eye out or contact me for more details! I don't know quite where the chop sticks are from, I'm pretty sure my mum and her boyfriend bought them for me on a holiday where they stopped off in hong kong for a flight change over.
I also wore these chinese style earrings I made. Another pair like these should also be available in my store soon.
However, whilst you're waiting for me to list these items (they wont be long I promise! I just need to find my camera charger) I do have plenty of chinese prints available so you too can get into the new year spirit! Just click the image to find it in my shop!
I have also some possible plans for celebrating the new year in crafting style, as long as I'm free to go to the events happening this week.
Are you doing anything to get into the New Year spirit?
Claire x
---
I have a new endeavour to go hand in hand with my wildlife photography in progress and so set out to Alexandra Palace to see the fallow deer that will be featuring in it. Unfortunately they had all disappeared! I assume they are inside and away from this bitter, cold weather, but it was quite a disappointment. I do have some ideas for what I can do with some other creatures, though, whilst I wait for their return.
So as not to waste our trip, I got Ash to take a few photographs of me in my newest creation! A sparkly, flowery, cosy infinity scarf! It really was very warm and cosy.
The outer fabric is the same as with my cape, and beautiful black, shimmering fabric I just adore. Hopefully I can buy more of it soon as I've more or less run out!
The inner fabric is a gorgeous, silk-like fabric which feels lovely against the skin and features a pretty flower design.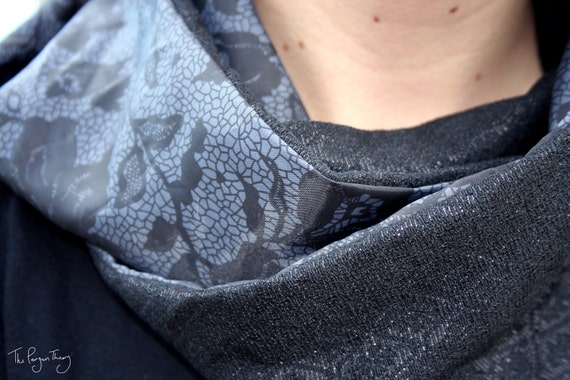 The scarf can be worn in the depths of winter with a thick coat to keep you nice and toasty warm, but it is also a good match with a simple t-shirt in slightly warmer weather.
I wore it with a plain black top, and big black waisted belt finished with this gorgeous blue skirt. I felt that the flower patterns in the skirt and scarf complimented each other well, plus I am just in love with this skirt (a bargain £3 from Primark!)
As it was a rather cold day I also wore tights with knee length socks to keep my legs warm, and these adorable fluffy boots!
Finally I finished the outfit off with some earrings I made for myself ages ago (more like I loved them so much I couldn't bare to part with them). The blue matched perfectly and the chain drops gave a sense of elegance to the outfit.
My make-up was simple. Just a light pink on my eyes with some winged liner and a hint of pink on the cheeks and lips.
Hopefully the Fallow deer will return soon, but for now you can find this scarf listed in my shop right here
Have fun!
Claire x
---