I have been playing with my photography and decided I'd love to make some more interesting things out of it. I got brainstorming and have come up with some good ideas, the first of which is now up for sale!
This is the first of my clock series. I have many more ideas and will be accepting commissions if you have a particular print of mine (or even your own!) which you would like to be turned into a clock.
This modern clock features some gorgeous welsh countryside, complete with grazing sheep!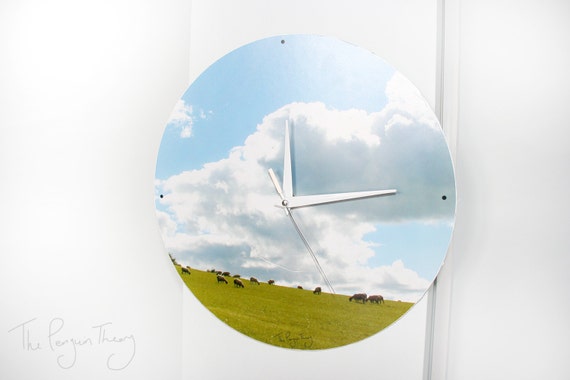 It measures 30cm in diameter. It is also available with numbering or dashes, please contact me for more details.
The back is signed with 'The Penguin Theory' the clock name, and the number of clock made. It runs with a standard AA battery which is easily changeable and has a hook on the clock mechanism to hang it on your wall.
There will be more clocks to come in future as well as more prints and some new sewing items! (Yes i promise I haven't forgotten about the sewing machine)
In other news, I finally got some new glasses! They're just for reading and computing so hopefully I will be able to see what i'm editing a bit more easily now. 🙂
'Till next time!
---
As promised May brings you lots of competitions and new products!
Here is your first chance to win, all you have to do is like and share this image on facebook to enter! But hurry, you only have until midnight on Monday the 6th (GMT)!
Up for grabs is this adorable tote bag with Picasso the penguin printed on it. It's the perfect bag for this summer to carry all your extra bits and pieces!
This bag is also available in my Etsy shop where 20% of every sale is going to the RSPB to help the falling numbers of rockhopper penguins.
And remember to follow this blog and like my facebook page to know if you've won!
Good Luck!
---
Video
I've decided to do my tutorials in video form as I feel it's a bit easier than taking and editing a bajillion photo's (hence why i've only managed one of my Friday Fabrications). Hopefully using video will mean I can update my Friday Fabrications a lot more regularly.
It's just a shame I get so awkward when being filmed!
So here is my first video tutorial! A simple, but yummy, recipe for potato wedges!
Hope you enjoy!
---