I have been playing with my photography and decided I'd love to make some more interesting things out of it. I got brainstorming and have come up with some good ideas, the first of which is now up for sale!
This is the first of my clock series. I have many more ideas and will be accepting commissions if you have a particular print of mine (or even your own!) which you would like to be turned into a clock.
This modern clock features some gorgeous welsh countryside, complete with grazing sheep!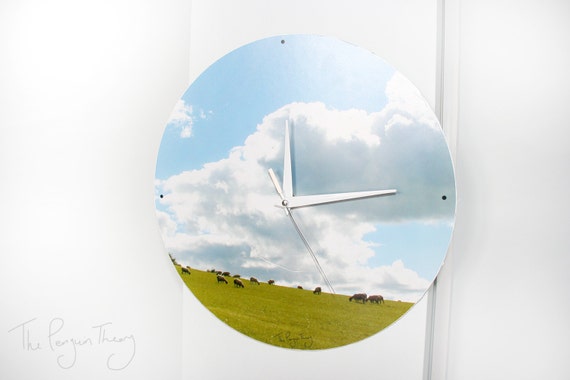 It measures 30cm in diameter. It is also available with numbering or dashes, please contact me for more details.
The back is signed with 'The Penguin Theory' the clock name, and the number of clock made. It runs with a standard AA battery which is easily changeable and has a hook on the clock mechanism to hang it on your wall.
There will be more clocks to come in future as well as more prints and some new sewing items! (Yes i promise I haven't forgotten about the sewing machine)
In other news, I finally got some new glasses! They're just for reading and computing so hopefully I will be able to see what i'm editing a bit more easily now. 🙂
'Till next time!
---
I made a treasury today for Craft Britannia's Shop of the Week : Louise Mead Art 
I just love her abstract 'Rain' painting, especially as it features my favourite colours and just really looks stunning!
You can find the treasury here
---