I haven't done one of these in AGES and I felt it was finally time to get back in the habit of making treasuries. It's really enjoyable and gives a chance to look at all the weird and wonderful things Etsy sellers have to offer!
I decided to go for a valentines theme, as it is nearly that time of year again, but wanted to give it an unusual twist. Here are a collection of items that are either unusual in themselves or not very conventionally valentines. For all the items you can find them on Etsy by just clicking the image!
Hope you enjoy!
1) Heart Little Breath Pair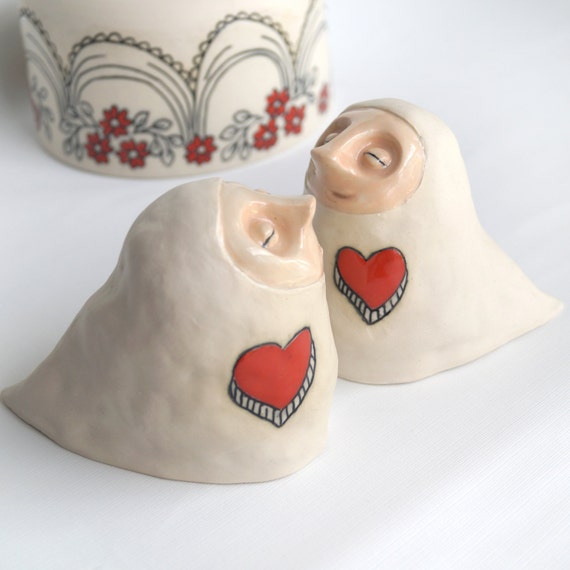 I don't think I need to explain why these are included, they are very unsual. They remind me of something you might find in a Studio Ghibli film, maybe that's why I like them. They certainly have a charm to them and would be a cute edition to a bookcase or sideboard.
2) Watercolour Love Red Umbrella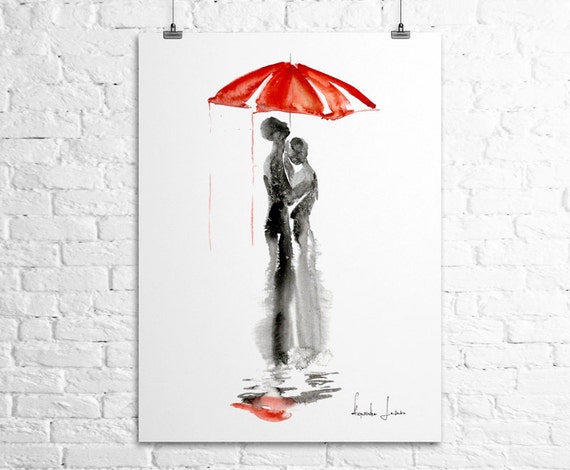 This one is included as I feel it has a very sombre feel to it, something not usually associated with valentines day. However I do think that this is a very beautiful print, I especially love the streams of red coming off the umbrella, gives a good sense of the downpour this couple could be caught in.
3) The Heart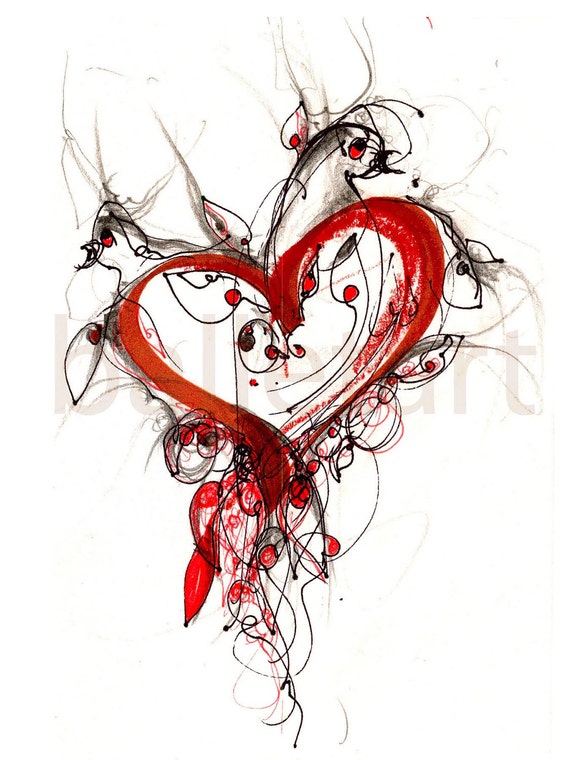 This simple, but expressive piece would make a great statement piece in your home, or even a great card (if the seller were to sell cards).  I love the messy approach and think this is a very cool piece.
4) Circuit Board Cufflinks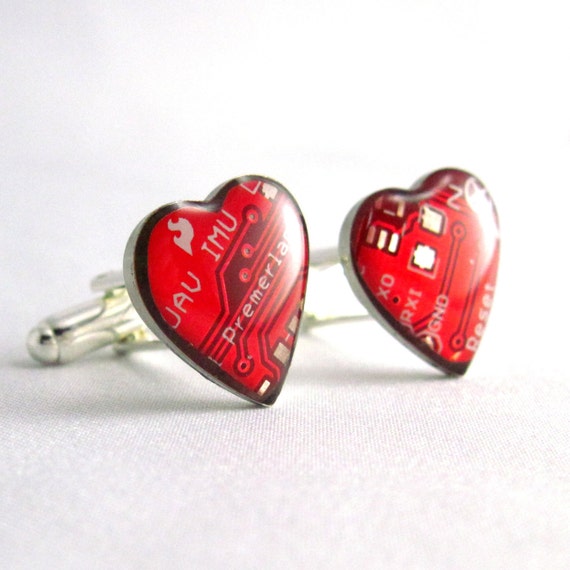 These cool cufflinks would be great for any computer geek (just like my boyfriend!) or even just someone who likes gadgets (so most guys then). The whole shop is full of these awesome geeky items and is a personal favourite of mine.
5) Personalised Champers Kit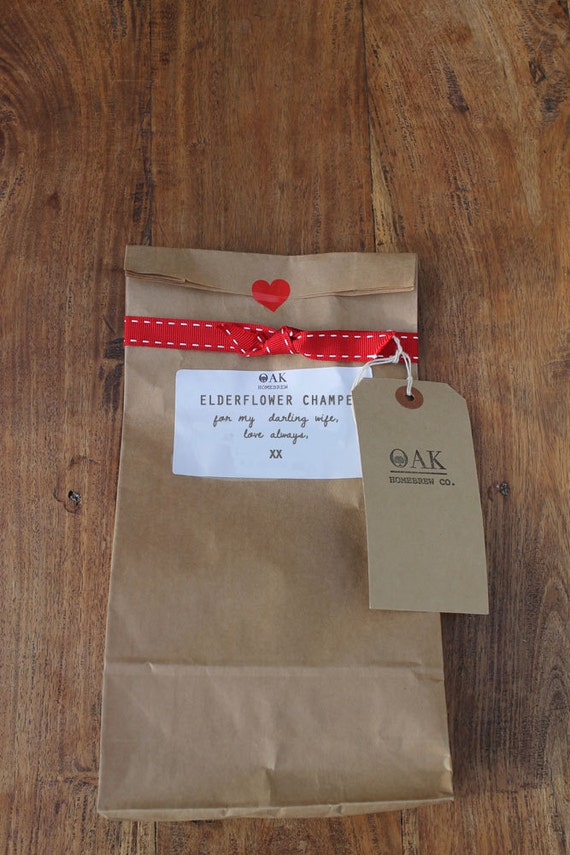 Drinking champagne might be something done quite often on Valentines day, but making your own isn't! In all honesty i'd probably enjoy the making more than the drinking! It would definitely be a cute thing to do with your loved one, and even if it isn't ready for the day itself it would give you a good excuse to have another romantic night in.
6) Anatomical Heart in a Jar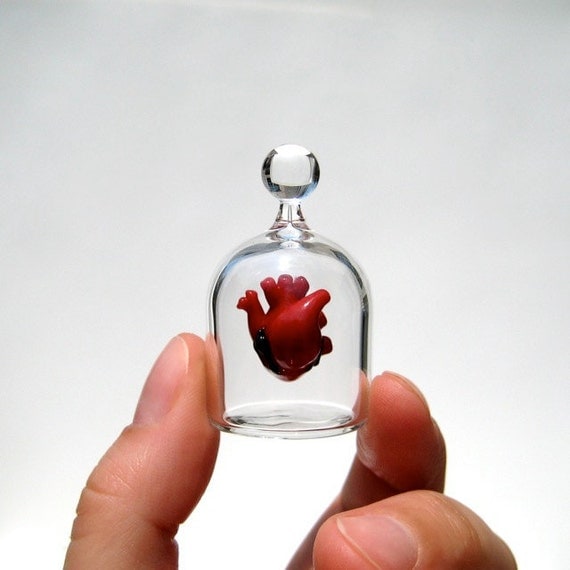 This hand blown glass item is the perfect gift for someone who hates the unrealistic heart usually associated with love and valentines. Not only does the bottle look gorgeous but the heart is captivatingly intricate. Definitely a cool piece to display in your home.
7) Valentines Bear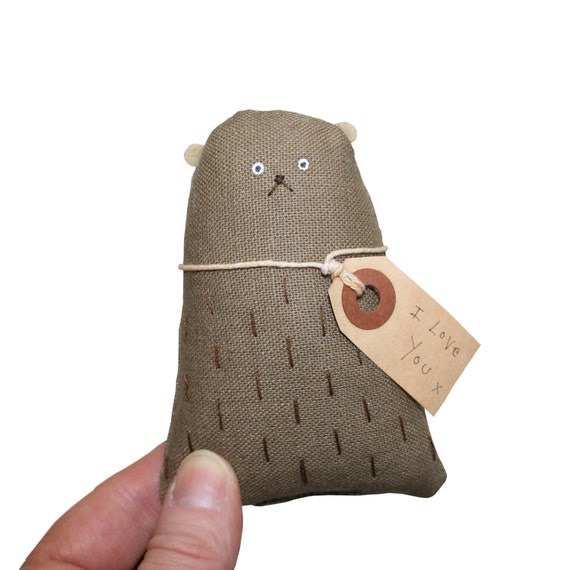 Teddy bears are a very common valentines day gift but they usually hold roses and hearts and other things that make me want to vomit (i'm not the most girly of girls when it comes to these things). This bear is a whole lot cooler, and cuter! Plus it could be the perfect gift for both men and women!
8) Love Letter Cookies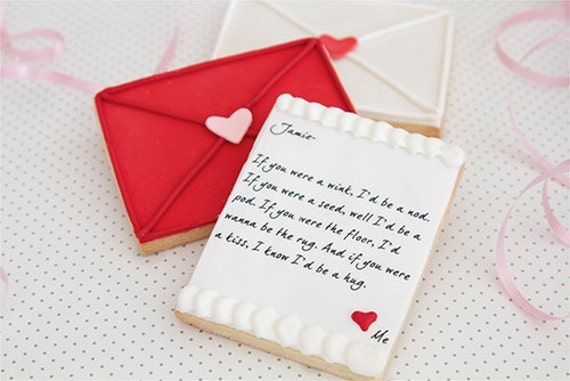 Love letters are very popular for all those lovey-dovey couples out there, but if you want something a little bit different why not make those letters edible! We all know girls love sweet things, and what better than to cover those sweet things with a poem that will probably make her cry! You'd be the best boyfriend ever, until they're all eaten up at least.
9) ClockWork Heart Tie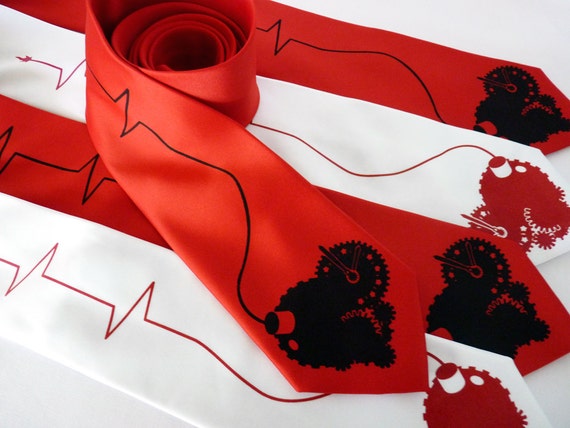 This unusual tie is pretty cool and would be a great gift for the man in your life, especially if he likes unusual ties.
10) Little Sculpture holding Heart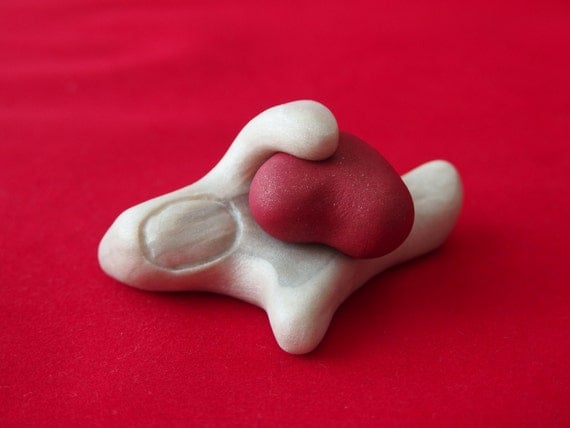 This cute sculpture is part of a 'star series'. These cute and quirky items are really fun to look at and would make a great, inexpensive gift for someone special.
11) Valentines Bike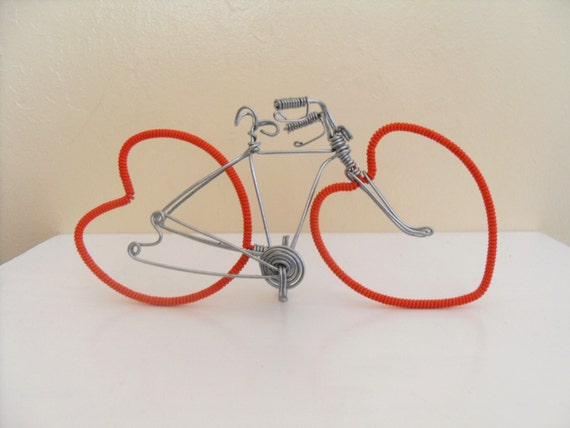 I found some similar bike sculptures (although not heart themed and probably not by the same person) when I went to amsterdam and bought one each for my mum and her boyfriend. They are super cool and a great gift for any bike maniac.
12) Egg Valentines Card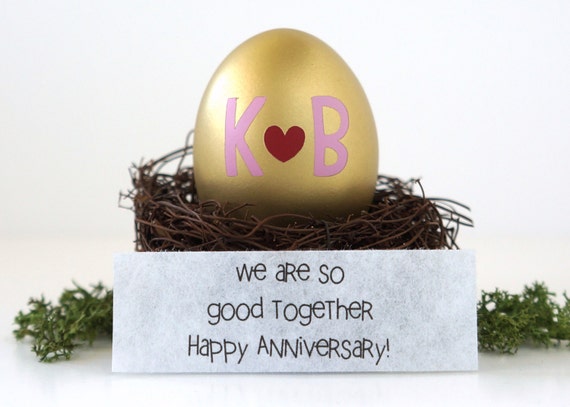 Bored of the standard valentines greetings card? Well this shop makes 'cards' out of real chicken eggs! Your personalised message is put inside your chosen egg and you have to crack the egg open to read it which almost seems a shame as they're so cute!
13) Longitude and Latitude bracelet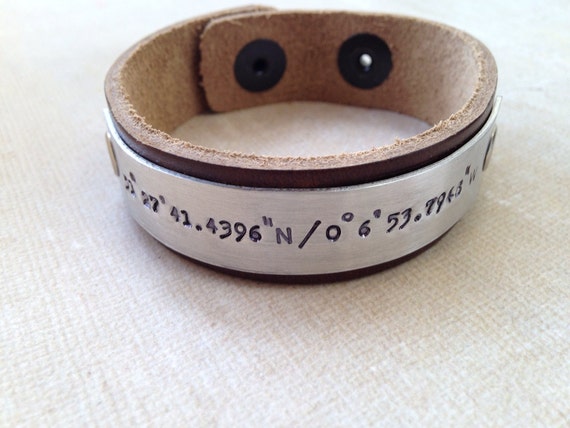 I love the rustic look of this bracelet and it can be personalised to have your own co-ordinates on! Maybe you could have it set to the place you both first met, your home, where you were proposed to, anywhere of real significance to the relationship.
14) Wooden Card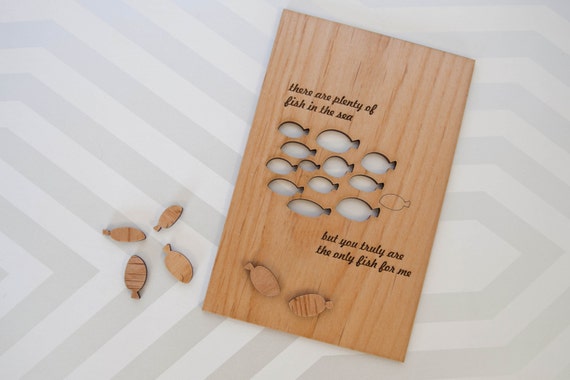 Another unusual card option. These look beautifully made and can double up as the actual gift as they can be kept on display with the mini easel the shop also sells. Just lovely!
15) Heart Shaped Chalkboard Stickers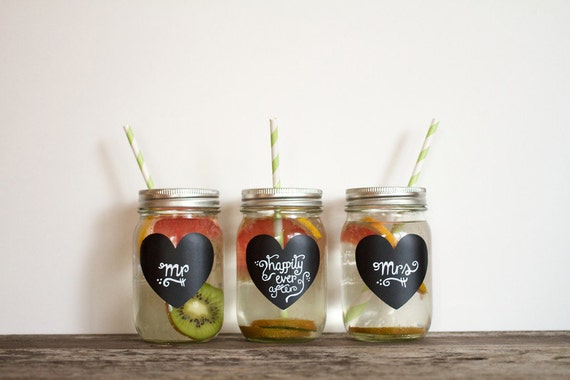 Ok, bit of a strange choice I know, but i think these stickers could be really cute for creating your own valentines gift. Stick them on jars and fill with love heart sweets, or make a valentines day picnic labelled with them, there are so many possibilities! I think they would be great for a personal touch to your gift and look pretty cool, plus you can always wipe off your message and use them again.
16) Heart Nose Ring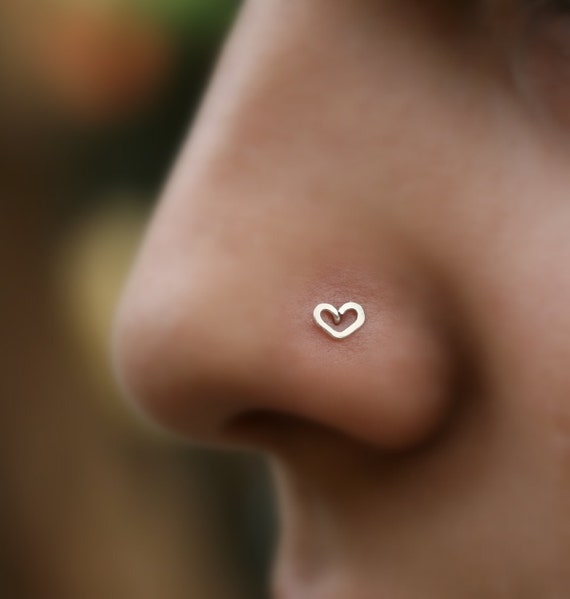 Nothing says 'Valentines Day' quite like jewellery, but lets start steering away from the expensive diamond rings, they are far too special for a day where you're practically forced to be romantic. Instead get something cute like this adorable little nose stud, i kinda wish I had my nose pierced just so I could buy this.
What unconventional things are you planning for this valentines? Or what sort of unusual things have you done in the past? I'd love to hear your stories!
January 24, 2014 | Categories: Etsy Finds | Tags: a different valentines, anatomical heard, art, bear, bike sculpture, brew, chalkboard, chalkboard stickers, champagne, champers, circuit board, circuit board cufflinks, circuit board cuflinks, clockwork heart, cookies, cufflinks, custom, cute bear, different, diy, edible love letter, egg card, etsy, etsy finds, etsy gifts, etsy treasury, etsy valentines, glass jar, glass sculpture, hand blown glass, heart, heart bike, heart chalkboard, heart cufflinks, heart jewellery, heart nose stud, heart sculpture, heart shaped, heart shaped cufflinks, heart tie, intricate glass, kit, longitude and latitude, longitude and latitude bracelet, Love, love letter, love umbrella, make your own, mens bracelet, mens gifts, nose stud, personalised valentines, piercing, plenty of fish, red, red umbrella, romantic night in, sculpture, star sculpture, studio ghibli, stuffed bear, tie, treasury, unconventional, unusual valentines, unusual valentines card, valentines, valentines bear, valentines bike, valentines cookie, valentines day, valentines egg, valentines jewellery, valentines men, valentines sweet, valentines tie, valentines women, watercolour, weird, wire bike, women gifts, wonderful, wooden card | Leave a comment
---
Last week I went to one of my best friends hen party. We haven't spoken in a while and it's rare we manage to see each other now, but every time we do it's like we haven't been apart. I'm so excited for her to get married (although it's not until next year!) and I was definitely never going to miss her hen do.
Of course every hen party is different, it has to reflect the bride in some way, and this one suited the bride to be perfectly! The maid of honour did an amazing job!
It took place in Leeds, always a great night out, and so I drove 3 hours up the motorway with my rushed-to-pack bags and full of excitement. I stopped off in my home town (just 40 minutes away from my destination) and had a quick lunch with my mum, catching up on everything before she gave me a lift to the train station.
I was told to look for the pink that I 'couldn't miss' at the station. I promptly walked right past them all, completely oblivious to the garish veil and excitable ladies. I soon found them though and we all tottered off to the hotel with me leading the way (quite how I, with no sense of direction, ended up with the map i'll never know). Somehow I got us there, we we're staying at the Ibis. It looked nice enough and had an amazing view of leeds from our rooms, but the rooms were very small with very awkwardly placed plug sockets. Whoever designed these rooms did not plan for girls to be curling their hair in the mirror, in fact they couldn't have made it any more difficult. Next time I should take a spare mirror.
The maid of honour brought out some amazing party bags she had put together. The bags themselves were leopard print with pink paper inside, already off to a good start. Inside was a great assortment of treats for us all!
Lip Gloss – Literally the glittery-ist lipgloss I have ever seen. It's like a glitter ball on my lips and I LOVE it! It even tasted like cherries. Definitely the kind of thing we all wore when we we're 12, I doubt that will stop me from wearing it though! (It's just so sparkly!)
Party Feet – I was SO happy to see this in my bag as i'd actually forgotten to pack mine! These gel cushions are such a great idea to keep everyone partying throughout the night. Such a life saver!
Bling – The bride is well known for her love of gold bling and so we all got to share in her passion with one of these plastic gold rings! The bride to be herself received a pretty little necklace. Even though this ring is obviously cheap it is a little bit of fun and I actually really like wearing it on my thumb, i think it's looks quite simple and pretty.
Condom – Hen do's often have the tendency of getting…messy. But at least we would all have been prepared for that eventuality, and with a smiley face!
Name Badge – To proudly show that we are with a hen do!
Fortune Cookie – To either give us hope for the future or to tear us down. Luckily mine had a very good message about promise in my career…but will that be 'The Penguin Theory' or the day job? I guess time will tell!
Penis Straw – Every hen do needs a penis straw. These one's were a little more reserved than some i've seen, the classier spectrum of the penis straw (if that's even possible).
Dare Card – Again hen parties need a bit of cheek (no pun intended)! My dare was to pinch as many guys bottoms in 1 minute as possible. A few of the other ones included getting a girls number, kissing the shortest/tallest guy and even rubbing your face in a hairy chest! However we all seemed to forget about these once the alcohol started flowing…
Wine – Each bag contained the start of our drinking with a mini bottle of wine! It was delicious!
Energy Drink – For a quick pick-me-up the morning after.
After we had all finished our wine, and polished off a bottle of bubbly, we tottered into town and went to Vodka Revolutions. There we had a table reserved with a food platter and drinks, and oh my was it amazing.
The platter was superb and had more food than we could manage with chicken strips, scampi, chips, mini beef and chicken burgers, pizzas, breaded cheese and a good selection of dips. It was all so yummy and easy to pick at, but it still defeated us.
We we're also given 3 large cocktail pitchers of our choice to share, shots and some sort of bomb (energy drink in which you drop a shot into before downing it in one gulp). All we're delicious and a great start to the night!
Next we moved on and we're going to go to a drag show, something the bride to be loves, but unfortunately the bouncer wouldn't let us in as we we're a hen party and in a large group. This had been checked on the website before we went but they must have changed their policies. It was a shame but we wouldn't let that ruin the night!
Eventually we found ourselves in a little, but lively, pub. All the furniture was miss-matching, they we're playing old classics like Queen and The Offspring as well as newer songs and the cocktails were delicious! We got talking to some guys out on a stag do, they we're so lovely and such a laugh! One fell asleep and we may have drawn on his face with lipstick before he woke up and showed off his dance 'skills'. It was a lot of fun but all too soon it was time to move onto the clubs.
We found ourselves in a gay club because, lets face it, they always have the best music, best dance moves and are just generally so much more fun. There was no worrying how you were dancing, everyone just went for it. There were the best tunes to sing and dance along to, podiums, poles, so much smoke you couldn't see (no seriously, it was a definite challenge until your eyes adjusted). It was such good fun and we we're all having a good boogie.
Soon though I started to flake. I haven't been out in such a long time that my stamina wasn't what it once was (well I guess I did last until well past 2am!), and i had been feeling a bit ill all night, not even finishing a lot of my drinks. My self a few of the other girls toddled off back to the hotel to climb into our nice warm beds. The bride to be and the other half of the hen party carried on into the night meeting a drag queen and having a great time from the sounds of it!
The next morning we all got up early for breakfast. Our hotel did a £5 all you can eat buffet, but when we went to look we we're not impressed. For one, there was barely any food there, 2 it was only cereal and some toast. That is not the food to cure a hang over. Instead we wandered next door to steak place and all bought various types of fried breakfasts. Just what we needed!
All too soon it was time to catch the train home.
I had another nice chat with my mum, went for a quick visit to my grandparents and then started the long drive back to london. I would have loved to stay an extra night (especially as my mum was cooking roast beef!) but I have so much to do it just wasn't possible.
I had such a great time and I just cannot wait for the wedding!
It was definitely the perfect hen night for the bride, which is exactly what makes the night even more perfect! It made me start wondering what my hen night would be like if I ever decided to get married…I imagine it would be quite adventurous and action packed with a bit of crafting involved.
What would you do on your hen night?
November 20, 2013 | Categories: Uncategorized | Tags: bling, bride to be, champagne, cheap bling, cheeky dares, classy, dare cards, discoball, drag queen, drag show, energy drink, fake bling, food platter, fortune, fortune cookie, fried breakfast, fry up, garish veil, gay bar, gel cushions, gift bag, gift bag ideas, hen do, hen do ideas, hen night, hen night dares, hen night ideas, hen party, hen party dares, hen party gift bag ideas, hen party gifts, hen party ideas, ibis hotel, leeds, leopard print, leopard print bag, leopard print party bag, lip gloss, maid of honour, morning after, name badge, night out, party feet, penis straw, pink veil, rude dares, tasty food, the perfect hen do, the perfect hen party, thumb ring, treats, veil, view of leeds, vodka revolutions, wedding, wine | Leave a comment
---
…or maybe not.
I had planned to sew some ties for my workfriends as we we're all going to Royal Ascot together. However silly me forgot about it until the day before!
This meant I had a big rush to sew 3 ties, with difficult silk fabric, and work during the day.
I was defintiely rushed off my feet and didn't get nearly as much sleep as I needed that night, but the ties we're made in time! Ok, so they were a bit wonky, and one had a slight hole in the stitching, but the boys seemed pretty happy! 🙂
Don't they look Dapper!
Royal ascot itself was a brilliant day. Ash didn't join me as he doesn't really agree with or like horse racing but i planned to meet him when we all got back.
I wore a white lace dress with a black jacket (which promptly came off as it was so warm) and some black wedges. I even wore a pretty little anklet which jingled when I walked, there was no losing me that day! I wish I had some better pictures but no one has uploaded theres onto facebook yet! Boo.
We got to the pub around half 8 and had breakfast, champagne and a good ol' chat. Soon the coach arrived and we we're off! Already a little tiddly, and with lots more alcohol to drink, it was unlikely we would end the day looking so refined.
When we got off the coach it was boiling hot! I am definitely glad I wasn't wearing a shirt, girls definitely have it much easier in the hot weather at events like this.
We all slapped on the sunscreen and carried on having a good time. I betted on the horses with silly names but won nothing. Soon we ended up moving to the shade as it was so warm. We got a few ciders (for vast expense) and just chilled and chatted.
All too soon it was time to go home. As soon as I sat down on the bus I seemed to pass out and I slept for most of the journey home, waking up just as we were getting back.
Ash came to meet me but then everyone decided to go home anyway, as we were tired from a long day.
We got home and just cuddled up with some movies. The perfect end to a fun filled day! 🙂
June 21, 2013 | Categories: Uncategorized | Tags: ascot, betting, brilliant day, champagne, dress, fascinator, fashion, full english breakfast, Handmade, having a good time, horse racing, journey home, lace, lace dress, matching ties, pub, queen, royal ascot, rushed, silk fabric, silk tie, silly names, stone horse, style, ties, wedges, white lace, wine, wonky ties | Leave a comment
---