I have a new endeavour to go hand in hand with my wildlife photography in progress and so set out to Alexandra Palace to see the fallow deer that will be featuring in it. Unfortunately they had all disappeared! I assume they are inside and away from this bitter, cold weather, but it was quite a disappointment. I do have some ideas for what I can do with some other creatures, though, whilst I wait for their return.
So as not to waste our trip, I got Ash to take a few photographs of me in my newest creation! A sparkly, flowery, cosy infinity scarf! It really was very warm and cosy.
The outer fabric is the same as with my cape, and beautiful black, shimmering fabric I just adore. Hopefully I can buy more of it soon as I've more or less run out!
The inner fabric is a gorgeous, silk-like fabric which feels lovely against the skin and features a pretty flower design.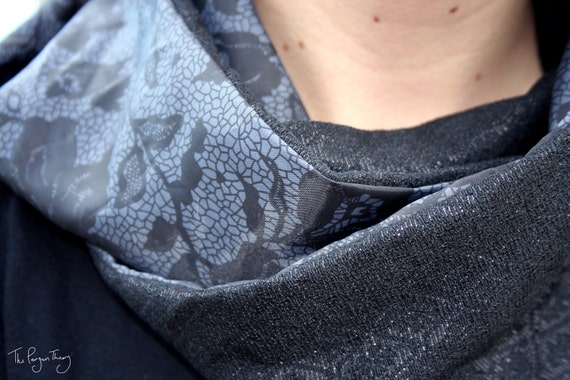 The scarf can be worn in the depths of winter with a thick coat to keep you nice and toasty warm, but it is also a good match with a simple t-shirt in slightly warmer weather.
I wore it with a plain black top, and big black waisted belt finished with this gorgeous blue skirt. I felt that the flower patterns in the skirt and scarf complimented each other well, plus I am just in love with this skirt (a bargain £3 from Primark!)
As it was a rather cold day I also wore tights with knee length socks to keep my legs warm, and these adorable fluffy boots!
Finally I finished the outfit off with some earrings I made for myself ages ago (more like I loved them so much I couldn't bare to part with them). The blue matched perfectly and the chain drops gave a sense of elegance to the outfit.
My make-up was simple. Just a light pink on my eyes with some winged liner and a hint of pink on the cheeks and lips.
Hopefully the Fallow deer will return soon, but for now you can find this scarf listed in my shop right here
Have fun!
Claire x
---
---
Every sunday our Longboarding group has a 'Hog Roast'.
If only it was a real hog roast! They're so tasty!
No, the hog roast is a day of skating in a place we call Hog Hill. It takes place in Redbridge Cycle Centre in Essex. It's only £4 for the whole  track, for the whole day (bargain!) and it's most definitely worth it. The road is lovely  and smooth, with some very big hills, you can certainly pick up a lot of speed from just a little distance, plus the views over london are amazing!
There are no cars allowed and so no fear of a collision with one in the london traffic (only bikes and people to watch out for). It is a great place to practice skating at high speeds.
At first I was very nervous, i'm not all that good at stopping and my board is a little too bouncy for really high speeds, but i gained confidence throughout the day, gradually starting higher and higher on the hill. I estimate that I got up to speeds of around 15mph. One of the skaters had a speedometer on his wrist and managed over 30mph!
I also took a video of the day which is available to watch here
I'm actually really proud of this video and am really looking forward to taking more! Although I think I will be taking my tripod next time. 😛
Next time I will be borrowing other, more stable, boards (ash has said I can use his) so that I might feel more comfortable going at faster speeds. You never know, I might be going from the top!
I'm also hoping to learn a few slides so that I know how to slow myself down incase I become uncomfortable with the speed I'm travelling at, plus they're always useful.
'Till next time!
---
Today my boyfriend and I decided to pop along to a little local church table top sale. I found quite a few bargains I'm proud of!
Venetian Bead Necklace
My first find. I bought this and then went back to the same stall for the rest of my things. I actually got this for £5 not any of the other prices on the label. Going to take it apart and use the beads to make some earrings and things.
Silver Heart Ring
I saw this and fell in love! Only cost me £5 as well! I love all the little hearts which go all the way around 🙂
London and Hertfordshire Charms
I thought these were cute and quirky, the exact kind of things i'm looking for to use in my jewellery making. Now just to figure out what to do with them…
Ashley also bought a Saw, hammer and a big, and well made, wooden box of nails for just £3! He wants to build things.
In other news. There is finally a new item for sale in my shop! I haven't listed anything for ages (mainly due to a lack of internet) but now i present to you my fish and pearl necklace! 🙂
---