---
Myself and Ashley have been together 3 years today!….or tomorrow. You see we don't really know when we got together as I agreed somewhere around midnight so we tend to celebrate over two days! However we're not doing much today as we have very little money and so just spent a long relaxing morning and afternoon together and both have work tomorrow. I have bought him vouchers for a graffiti art lesson though, although we can't book it for a few weeks as we're too busy!
Still, it's been really nice to spend some time snuggled up together thinking 'how on earth have we put up with each other for 3 years!'. Of course we've had our ups and downs like every couple, but since we've both finally got new, well paid and enjoyable jobs things have been really good and we're as loved up as ever!
To celebrate our anniversary i've decided to give away one of my Penguin cards to one lucky winner, so they can share their love with someone special.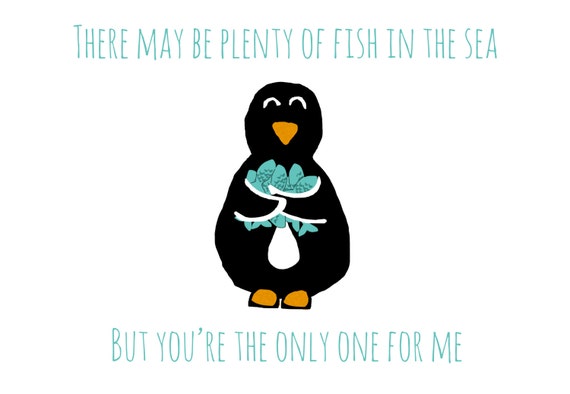 I am actually giving away an extra large card, a size not available in my shop, featuring the adorable picasso and lots of fish (above)! This was my most popular card design over valentines and so is sure to be the perfect way to make someone feel a little special.
To enter to go over to my facebook and then like and share my competition image here.
You have the rest of today and tomorrow (the length of our anniversary) to enter!
Good Luck!
Claire x
---
Yesterday it was mine and Ashley's year anniversary together. We decided to celebrate by going into london together and having a nice day out.
We started in McDonalds at Waterloo station as this was where we first met and had some nice healthy food(!) Obviously it was a very classy start to the day.
Then we thought we'd take a stroll on the south bank to see the performers, another thing we did on the first day we met. We found mr bean, some crazy bendy jamaicans and a man drumming on lots of buckets. I always enjoy seeing what's going on there, the atmosphere always feels so alive.
We then wandered over to Camden Market, one of the first places we had a date. We wandered around the markets for a bit and I bought a lovely pocket watch where you can see all the inner workings. I've always wanted one but could never find one i liked until now! Ash bought a batman jumper and pulp fiction tshirt.
We then went to have a coffee in starbucks by the river before moving onto my little surprise for him. He's a massive nerd so I thought I'd take him to Forbidden Planet, a big comic book and nerdy memorabilia shop. He was pretty excited! I ended up buying him 'The One Ring' from the Lord of the Rings Trilogy which he's not taken off since. I'm surprised he made a decision so easily as there were so many items for him to choose from, and the book section could easily cause you to lose a few hours.
He then surprised me by taking me to a restaurant. But this wasn't any old restaurant. This restaurant only sold puddings! Needless to say i was in heaven. In fact i was so overwhelmed that I panicked when the waitress came over and ordered probably the most boring thing on the menu.
A vanilla cake.
At least it was a very nice vanilla cake…The frosting was so light and sweet. Delicious!
I did buy myself an icecream on the way out though…
However, he said he'd take me back again another time so I can order something a bit more exciting. 🙂
We then went home and decided to cuddle up and watch the first Lord of the Rings with some wine and malibu. All together a very chilled out and cosy night.
Definitely a successful anniversary. 
---